ARTICLE
Five-axis, gantry-style, machining centre
24 September 2018
Central to XYZ Machine Tools' stand at the Advanced Engineering Show will be the UMC-5X simultaneous five-axis, gantry-style, machining centre.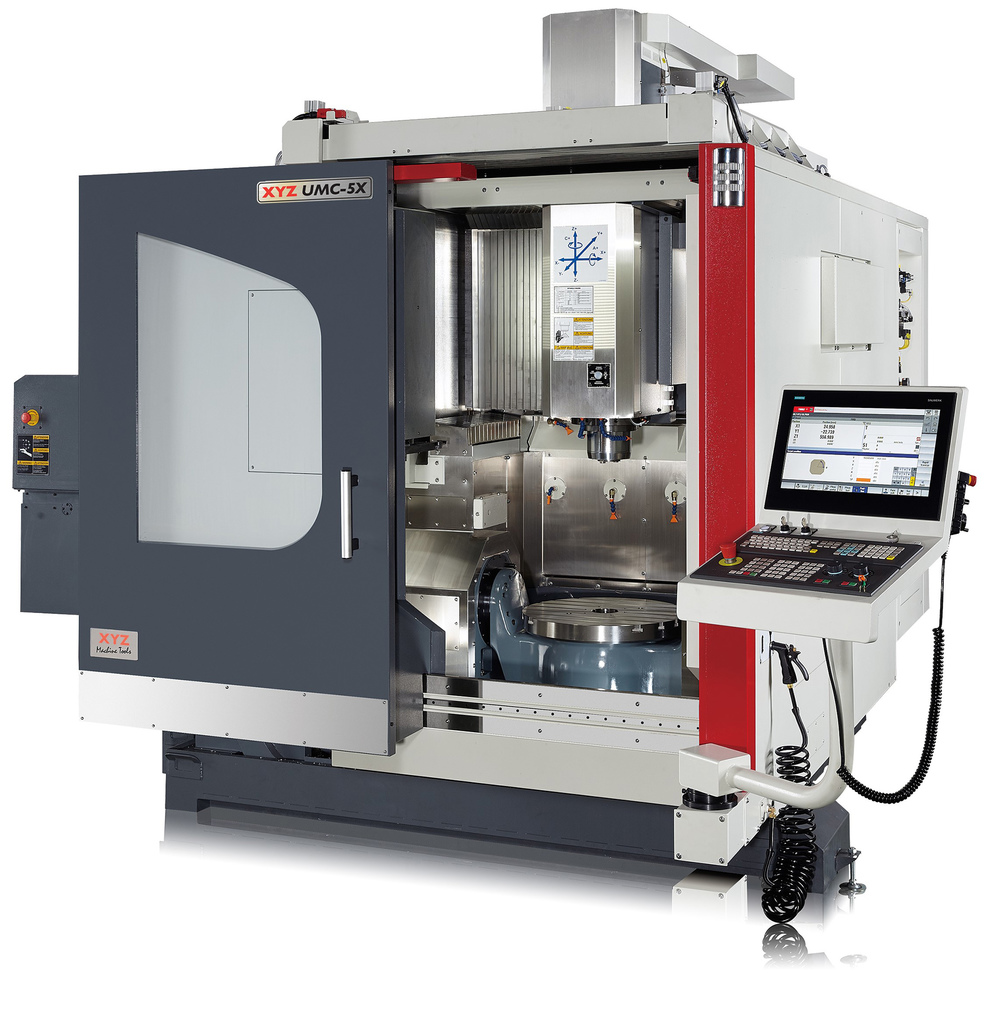 The UMC-5X is available at a very competitive price point, yet comes with Traori/Kinematic functions for five-axis simultaneous machining, as well as integrated Smart Machining Technology (SMT) and thermal growth compensation. The control system can be either the Siemens 840DSL ShopMill or, the Heidenhain iTNC 640 HSCI system.
Both controls ensure high precision, high speed, simultaneous five-axis machining. Other key features are the front loading 600mm diameter trunnion rotary table, with a high accuracy, direct drive, high torque motor providing 90 revs/min rotation of the table. The tilting axes are servo worm driven (torque motor option) that provides ±120° of movement and just 2.5 seconds for full rotation with a maximum table load of 600kg. Due to the table configuration and machine design, when the table is tilted 90° towards the rear (component facing forward), there remains 500mm of Y-axis travel forward of the table surface. This is much greater than many competitor machines, including those that quote the same axis travels as the UMC-5X, allowing larger workpieces to be machined.
Alongside the UMC-5X will be a selection of the XYZ Machine Tools range including the innovative XYZ 2-OP, a portable vertical machining centre that can free up valuable time on more expensive machine tools to enhance your machine shop versatility and productivity. The XYZ 2-OP makes use of the ProtoTRAK control system. Other machines on show that also feature the easy-to-use ProtoTRAK control are the SLX355 ProTURN lathe, which with its 360mm swing over the bed and 1000mm between centre distance is a great entry to CNC turning. Similarly, the SMX 3500 ProtoTRAK controlled bed mill is representative of the XYZ bed mill range, with its three-axis CNC control with 530mm of programmable 'Z' travel, while retaining the versatility of a swivel head and manual quill.
Completing the machine line up at Advanced Engineering is the XYZ 500 LR vertical machining centre. The XYZ 500 LR is part of the recently introduced series of linear rail technology machines that sit alongside XYZ's familiar box slideway to offer a lower cost route into vertical machining centre ownership while still presenting customers with the performance and productivity expected from XYZ Machine Tools. The three machine LR range consists of the 500 LR, 750 LR, and 1000 LR, with each machine equipped with the Siemens 828D control, carousel-type toolchanger (arm-type optional on the 750 and 1000 LR) for added productivity. Stand CM40
OTHER ARTICLES IN THIS SECTION