ARTICLE
Guide highlights single source benefits
20 November 2018
Gardner Denver has launched a new guide outlining how organisations can improve cost efficiencies and streamline operations by moving to a single supplier to meet all their industrial air requirements.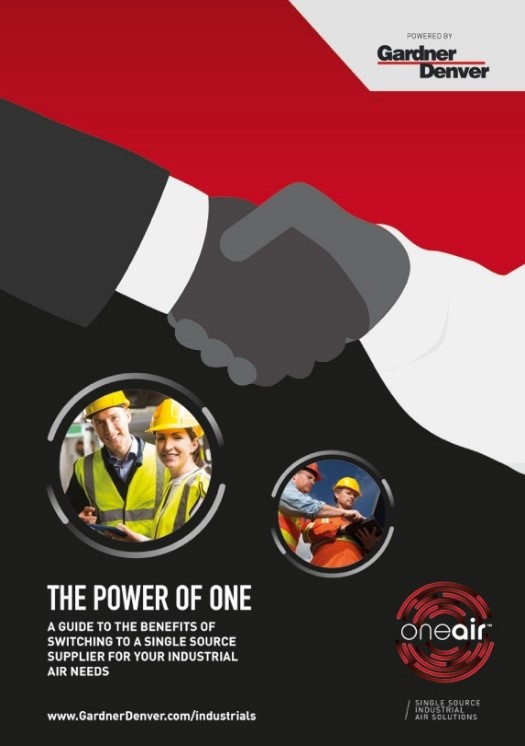 The guide covers benefits such as the value of building strengthened relationships, the opportunities available to achieve better terms through volume, lower administration costs, reduced inventory and easier servicing.
Andrew Power, country sales director at Gardner Denver, explains: "This is the first guide in a larger series that will outline some of the key issues facing businesses today, such as the insights that can be gained from digital data, how compressed air users can improve the efficiency and performance of their technology, and the importance of aftermarket support.
"We believe the difference that businesses can make to their bottom line from switching to a single source supplier are significant, while also streamlining operations and processes. For example, only having to process one invoice, manage one service contract and deal with only one customer care team can make a real difference to a company's day-to-day operations, so that time and money can be better spent on other priorities.
"Here at Gardner Denver, we provide a 'OneAir' offering, with a product range that features well-established brands such as CompAir, Hydrovane, Elmo Rietschle, Robuschi, Belliss & Morcom and Reavell. We hope that those who download the guide will find it informative and helpful, while demonstrating the improved business processes that can be realised by switching to a single source supplier."
Available to download for free from the Gardner Denver Industrials website – https://www.gardnerdenver.com/en/industrials/about-us/downloads-center.
OTHER ARTICLES IN THIS SECTION