ARTICLE
Ultrasonic compressed air, gas and vacuum
28 November 2019
In predictive maintenance the possibility to detect ultrasounds resulting from malfunctions can help to anticipate breakdowns and accidents and make energy savings.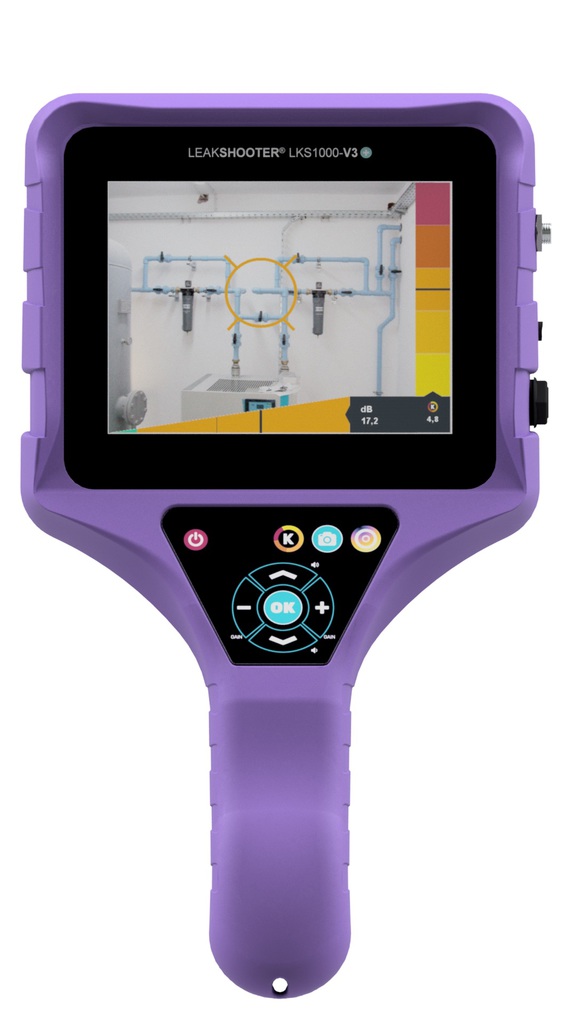 The LEAKSHOOTER v3+ from Logis Tech is said to have significantly advanced this inspection technique.
You can film, view and photograph the precise spot where compressed air, steam, pressurised gases and vacuums are leaking using the LEAKSHOOTER v3+.
The LEAKSHOOTER v3+ is capable of finding all leaks, even the smallest, including those no bigger than the size of a syringe needle, at a distance of 20 metres. Leaks can be detected in all types of industrial environment thanks to the possibility of adjusting the gain on the device to filter out all undesirable noise.
The LEAKSHOOTER v3+ is used like a camera. When it comes near a leak, a dynamic white target appears on the large colour screen. The target shrinks as it approaches the source of the leak. A bar graph at the bottom of the screen accompanies and facilitates the search.
When the device is facing the leak, a cross appears around the centre of the target. It is then possible to photograph and save the precise location of the leak. The photos can be uploaded directly onto a PC via a USB cable, ready to be attached to inspection reports. It is still possible, while visually searching for a leak, to use the traditional method of leak detection, listening for the hissing sound of the leak using the professional headphones, which can be plugged directly into the device.
Various accessories are available for the LEAKSHOOTERv3+ enabling it to be used for other applications as well as leak detection. For example; steam trap monitoring, bearing monitoring, electrical applications like partial discharge, corona effects, punctured isolators, electrical tracking detection.
Also embedded within the LEAKSHOOTER v3+ is the first automatic Steam Trap analyser, which can detect defective steam traps in seconds.
MORE FROM THIS COMPANY
No related articles listed
OTHER ARTICLES IN THIS SECTION