ARTICLE
SKF Training Courses
18 June 2014
SKF training programmes are helping businesses across the UK to provide first class services by building a base of employees with a deeper understanding of industrial processes and applications.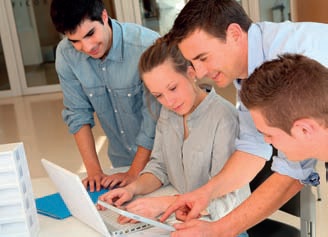 The courses help engineers to understand how SKF products are made and how they fundamentally work - but we don't just offer training courses on our own products; our aim is to provide a thorough grounding in theory and practice that gives students a deeper understanding of the technologies with which they work. There are a wide range of courses to choose from, covering all aspects of our business, including bearings, alignment, lubrication and condition monitoring, plus special courses on market sectors, such as oil and gas.
The SKF courses focus on enhancing the efficiency of plant machinery and equipment assets, which are the very heart of the production process. The result is a whole range of benefits for both your company and your personnel. For the employer, the benefits of training include higher levels of personnel and machine efficiency, increased reliability and productivity, and enhanced plant safety.
For employees, it's an opportunity to develop skills and careers, and take on new responsibilities, for example, handling the departure or absence of experienced personnel.
Our training courses offer students the opportunity to learn at their own pace – and place – via our wide range of elearning programmes. On completion of a course, the participant is offered an exam.
Upon successful completion of the exam the participant will receive an electronic certificate which can be printed out locally. SKF Training Solutions e-learning is powered by a market-leading Learning Content Management System. This allows fast and efficient delivery of sophisticated training materials to make your learning experience more interesting, enjoyable and effective.
SKF offers training courses by skill levels.
Following this development path is not mandatory, but highly recommended, as participants will realise the most benefits by taking the courses sequentially.
Basic
E-learning modules delivered online, 24/7, via the SKF Knowledge Centre.
Introductory courses familiarise students with basic terminology and offer basic training on subjects such as bearings, lubrication, thermography, and more.
Intermediate
Classroom courses taught by SKF specialists at customer locations or SKF facilities. A combination of theory and hands-on instruction. Intermediate courses typically last 2-3 days.
Advanced
Classroom courses taught by SKF specialists or external experts at customer locations or SKF facilities. Advanced courses typically last 3-5 days.
Among the most popular classroom options are the two BINDT-accredited vibration analysis courses, which fully conform to ISO 18436. Vibration analysis category 1 (WI202) will provide evidence of qualification and competence for individuals to perform vibration analysis measurements using appropriate sensors and equipment.
SKF also offers customised courses, which can be combined to create the training programme best suited to your team.
Although courses are normally run at our offices in Aberdeen, Leeds or Luton, many can also be arranged on-site, or via elearning.
Our training courses are backed by over 100 years of experience and knowledge of rotating machine reliability that is unmatched in the industry. Close working partnerships with our clients have given SKF a unique and intimate understanding of the processes and challenges specific to every major industry sector. Across the UK, engineering firms are using our knowledge and insight to develop the careers of their employees, add value for their customers and, ultimately, grow their business.
For further information and to receive a copy of our 2014-2015 SKF Training Solutions catalogue please contact your nearest training centre:
SKF Training Centre - Aberdeen Wellheads Road, Farburn Industrial Estate, Dyce, Aberdeen AB21 7HG T: 01224 723321
SKF Training Centre - Leeds Unit 1, 3 Wortley Moor Lane Trading Estate, Wortley, Leeds LS12 4HX T: 0113 231 0303
SKF Training Centre - Luton Sundon Park Road, Luton, Bedfordshire LU3 3BL T: 01582 496502
E: training.uk@skf.com www.skf.co.uk/training
OTHER ARTICLES IN THIS SECTION