ARTICLE
Laboratory standard digital thermometer and logger launches
29 April 2016
The Tempmaster PRO from Labfacility provides very high precision temperature measurement with Pt100 sensors. Data can be displayed in oC,oF, K or Ω  as required; nine front panel push keys, the only user controls, are used in conjunction with the large, clear display screen.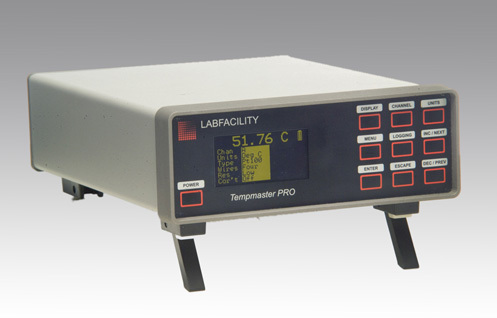 There are two input ports for 3 or 4 wire Pt100 sensors; the instrument automatically recognises 3 or 4 wire configurations. Both inputs can be scanned and values logged according to parameters set up by the user in the PC software. A real-time clock and on-board memory are incorporated.
A flash drive USB port is provided to allow data to be stored and/or exported. Firmware updates are also facilitated via this port.
The PC software which is supplied with the Tempmaster PRO allows remote control, measure and logging. Serial interface with the PC is via a USB connection.
Buy online www.labfacility.com
OTHER ARTICLES IN THIS SECTION