ARTICLE
Mobile column lifts
02 August 2017
Stertil Koni has supplied a set of mobile column lifts to improve maintenance duties on a fleet of refuse collection vehicles operated by Euro Municipal.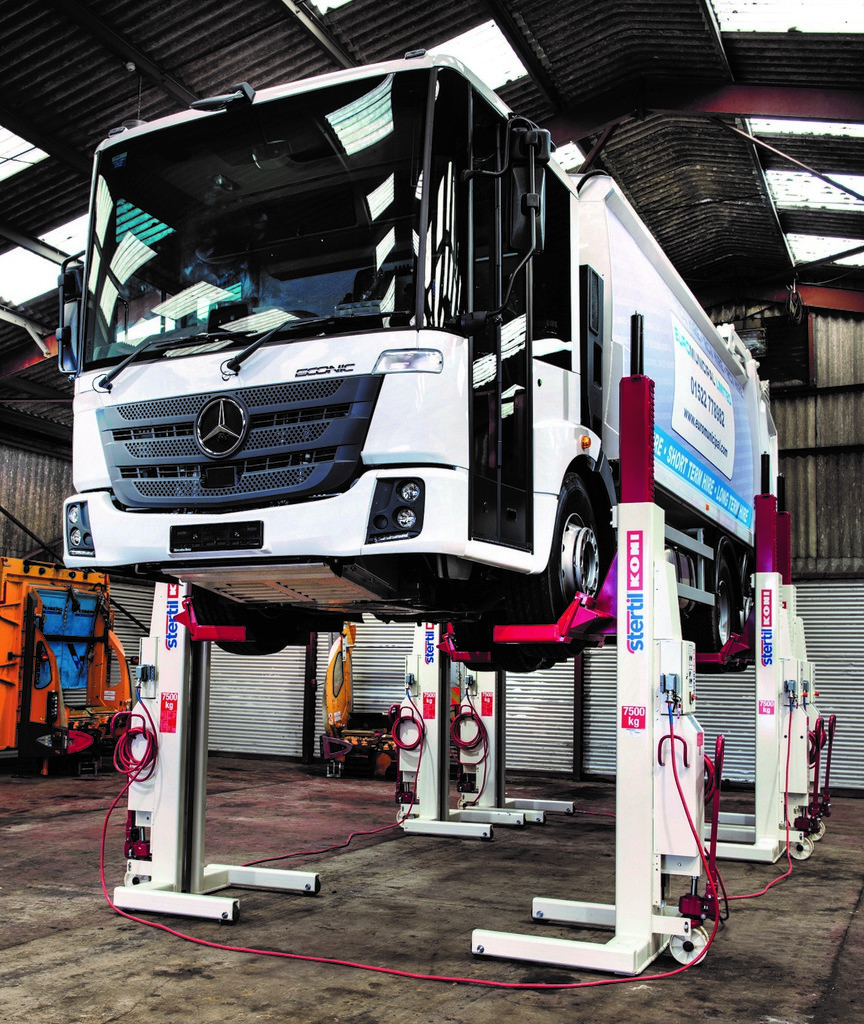 Based at North Scarle near Lincoln, Euro Municipal was established in 2009 to meet a growing need for the supply of reliable used refuse and recycling vehicles and spare parts. Steady growth at has resulted in great success for the company which needed to relocate to larger premises and recruit additional engineering staff. More recently, Euro Municipal has expanded into the vehicle rental market and now supports a fleet of hire vehicles operating throughout the UK.
Euro Municipal's workshop engineers are frequently required to repair and service tri-axle refuse collection vehicles so the company opted to specify a set of six Stertil Koni ST1075FSA lifts. Each lift is rated at 7.5 tonnes which provides a combined lifting capacity of 45 tonnes to ensure complete safety when dealing with the largest vehicles in the fleet.
Each of the ST1075FSA electro-hydraulic mobile column lifts features a superior control box mounted on each of the columns. This provides workshop engineers with the ability to operate the lifts individually, in pairs or all six simultaneously from any column in the set. Providing a maximum lifting height of 185mm in just 75 seconds, this model is one of the world's fastest workshop vehicle lifts. In addition, the advanced hydraulic lifting system incorporates a microprocessor-controlled synchronisation feature to ensure smooth and precise movement at all times.
"Our workshop engineers were instantly impressed with the Stertil Koni lifts," says Mark Forrester, managing director of Euro Municipal. "Apart from their flexibility, the new mobile column lifts have made our maintenance and servicing operations easier, cleaner, more efficient and, most importantly, safer for our engineers. As the size of our refuse vehicle fleet continues to grow, so does the maintenance requirement and the Stertil Koni lifts are proving to be invaluable in ensuring that we meet the challenge."
OTHER ARTICLES IN THIS SECTION