ARTICLE
Medium-sized 'cobot' introduced
07 November 2018
A medium-sized robot for handling, picking and packing applications is the fifth model to join FANUC's collaborative robot portfolio.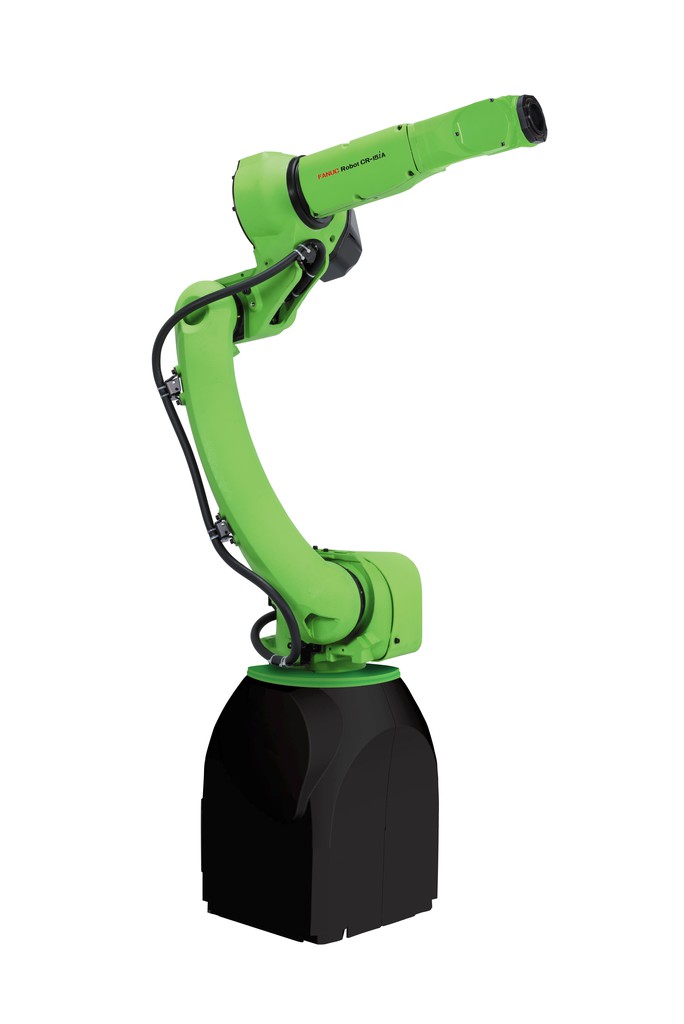 The CR-15iA benefits from the same integrated sensors and highly responsive 'touch-to-stop' reactive functionality as the rest of FANUC's green 'cobot range'. As such, if the arm comes into contact with a fixed object or person, it gently stops and retracts. A safety system ensures that the robot stops at a maximum of 150N, however this can be reduced further if required.
The CR-15iA is able to work safely and cooperatively alongside human operators, without the need for fences or barriers.
"Our FANUC cobots may be green on the outside, but they're yellow on the inside," explains Andrew Armstrong, sales and marketing manager at FANUC UK. "By investing in a collaborative robot, manufacturers benefit from the mechanics, control and repeatability of a yellow FANUC industrial robots, but with enhanced safety and sensitivity for effective co-working with humans."
Launched at AUTOMATICA in Munich earlier this year, the CR-15iA mirrors the design and mechanics of the industrial M10iD range, making it easy for users to integrate collaborative robots into the existing robot cells, with the same parts inventory. The new cobot has a maximum payload of 15kg and a reach of 1441mm.
"Our latest six-axis collaborative robot is the perfect addition to medium-sized picking, packing and palletising applications," says Armstrong. "It's also certified to international standard ISO 10218-1, and is protected to IP standards 54 and 67 in the body and wrist respectively."
In addition to its sensors, which are located on the base of the robot rather than its arm, the CR-15iA comes with flexible mounting options, such as the floor, ceiling or wall. Its relatively small footprint also makes it suitable for warehouses and packing lines with limited floor space.
For manufacturers who are new to collaborative, automated working, the CR-15iA comes with the R-30iB Plus controller, an intuitive user interface that guides operators through the robot's set-up and programming. It also has hand-guidance functionality, which allows an operator to lead the robot through handling operations.
"Collaborative robots are fast becoming a popular investment for production lines that can be made more efficient by automation, but that still require the presence of an operator," adds Armstrong. "The latest addition to our CR range will open up automated capabilities to new customers across the UK – not just in packaging and palletising, but potentially in quality control as well."
OTHER ARTICLES IN THIS SECTION