ARTICLE
Non-contact jetting technology
26 February 2019
Nordson EFD has introduced a series of pneumatic non-contact dispensing systems. The P-Jet and P-Dot valves and V100 controllers jet low- to high-viscosity fluids with a high degree of precision and repeatability.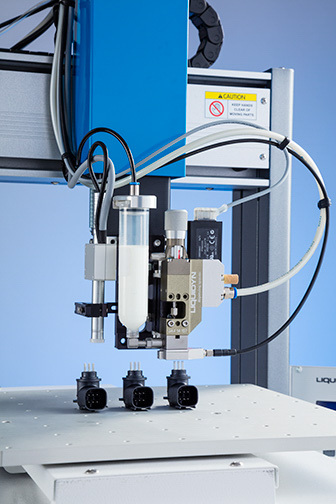 They are designed for use in many types of applications and multiple industries including automotive, electronics, aerospace, and medical.
The launch of the P-Jet and P-Dot comes with EFD's recent acquisition of Liquidyn, a Germany-based company that designs and manufactures non-contact micro dispensing valves. The company was founded in 2006 by two German engineers looking to provide manufacturers with more efficient fluid dispensing options.
The P-Jet has dispensing frequencies to 280Hz, with dispensable volume starting at 3nL. Both the P-Jet and P-Dot feature exchangeable nozzles and dispensing tappets to adapt to different kinds of applications.
Both are easy to use and maintain featuring wetted parts that are separate from the actuator. They require low voltage (24V) and maximum fluid pressure of 87 psi (6 bar) to operate, which are important when evaluating safety considerations. In addition, the valves can be easily integrated into production lines.
The P-Jet dispenses low- to medium-viscosity fluids such as solvents, oils, greases, silicones, paints, and fluxes in beads and lines. Common applications include filling, potting, sealing, and coating. The P-Dot dispenses higher viscosity fluids such as adhesives, lacquers, oils, greases, silicones, and fluxes in dots, beads, and lines.
OTHER ARTICLES IN THIS SECTION