ARTICLE
Chicago Pneumatic introduces new air motors to portfolio
27 April 2020
A new range of air motors from Chicago Pneumatic combines multiple configurations, compact design and excellent performance in harsh environments, helping OEMs and machine builders to improve the efficiency of their systems.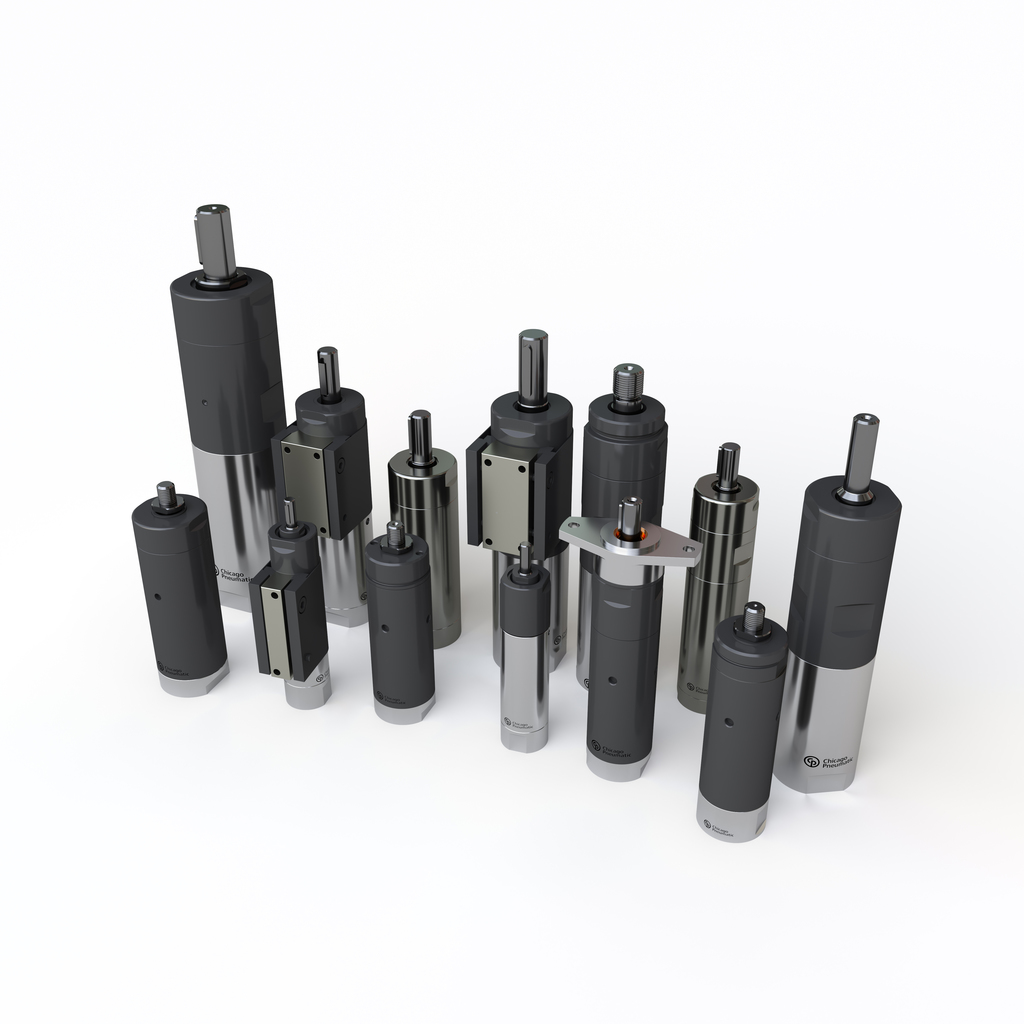 "We are excited to include air motors as part of our product portfolio for the first time," says Damien Feller, Global Product Marketing Manager, Spares & Solutions, at Chicago Pneumatic. "This addition to our catalogue is ideal for OEMs and machine builders looking for simple yet reliable power in applications including pipe processing, mixing, blending, filling, metering in food and chemical processing, and machine maintenance. The new range complements our existing range of pneumatic products and tools and reinforces our position as leaders in industrial pneumatic solutions, so customers can be assured they are receiving the highest quality product and support."
There are nine models of motors in the range providing power from 0.16kW (0.21HP) to 1.8kW (2.45HP), maximum output torques of up to 299Nm (221 ft.lbs) and speeds of up to 21,500 rpm. They are easy to install and use providing users with high versatility based on their needs. Power can be adjusted easily by regulating the air supply, pressure or throttling, and users have a choice of progressive or immediate start to best suit their application.
The motors are efficient thanks to a lightweight and compact design. They feature internal planetary gears which contribute to a long, slim design, and the motors are said to be up to six times smaller and lighter than electric motors of equivalent output power meaning OEMs can reduce the overall weight of their machines. Output inherently adjusts to match the applied load, which further enhances efficiency, and low friction blades, which are a lubrication-free design enable users to improve their sustainability. The motors offer a cost-effective solution, with low installation, operation and maintenance costs.
The heavy-duty motors provide reliable operation in hostile environments. They can be used in constant stop-start operations and be stalled indefinitely without overheating or sustaining any other damage. As such, they provide long-life performance to maximise process uptime.
There is no heat generated or the possibility of sparks being created and air motors from Chicago Pneumatic are ATEX certified for use in zone 2 hazardous areas. The stainless-steel air motors also offer safe operation. Furthermore, there is no hydraulic fluid, which eliminates any risk of leakage, pollution or fire. In addition, they are not sensitive to electromagnetic interference, providing dependable operation in sensitive environments.
There are reversible and non-reversible variants to suit all applications and the motors are available with various output shaft types including keyed shaft, threaded shaft, or hex. They also come with a range of accessories including mounting flanges, mounting feet, silencers and chucks.
For more information on the new air motors visit: https://www.cp.com/en-uk/tools/news-events/product-news/air-motors-from-chicago-pneumatic.
OTHER ARTICLES IN THIS SECTION