ARTICLE
On show at LogiMAT
01 February 2019
Clark Europe will be at LogiMAT (19 to 21 February, Stuttgart) with a range of new products for process optimisation.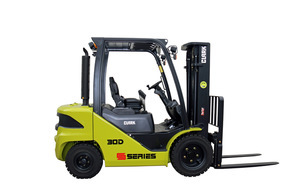 On show will be the S-Series internal combustion engine trucks launched in early 2018. These have been improved by new Ford engines of emission level 5 and a new DBS system. With the aid of the DBS system, the forklift steering axle is stabilised in such a way that, when cornering, the tipping danger is reduced and driving behaviour improved. This increases both safety and throughput.
DBS is now available as standard on all S-Series model. Clark's S-Series, with load capacities of 2 to 3.5t, is registered for the IFOY Award 2019. The company says it meets the requirements of customers worldwide with active safety systems, a smart information system, a new ergonomic workplace concept and extensive additional equipment.
The low-lift pallet truck PPFXS20 premieres at LogiMAT with a capacity of 2t and battery capacity up to 375Ah. The new truck expands the Clark product range in the field of warehouse equipment. The vehicles feature a solid platform with lateral walls and all-electric power steering, which makes them intuitive and safe to use. A high level of safety is also provided by the automatic reduction of the driving speed in curves. The Clark pallet truck is suitable for the loading and unloading of trucks, the transport of loads and the picking of various goods.
Another highlight at the booth will be the Clark reach trucks SRX14 / 16, with 1.4 to 1.6t lift capacities and 10.5m lift heights. With their solid construction, the trucks are said to ensure reliable operation with low service costs over their entire life circle. A functional ergonomic concept ensures that drivers do not need to do any superfluous hand movements and thus can concentrate on their work.
Also on display in Stuttgart is the WPio12 electric hand pallet truck with lithium-ion battery. It features electronic lifting and driving, a weight of just 130kg including battery, and a service life of up to three hours with fully charged battery (24V, 20Ah).
At 100 % discharge, the charging time of the Li-Ion battery is only 2.5 hours. Intermediate loads are possible without any problems. With up to 1000 charging cycles, the maintenance-free battery has almost twice the life of block batteries. Handy removable batteries are available from the factory, which can be used to easily extend the operating time.
The WPio 12 is also suitable as a driving device on a lorry; because its turning radius (1390mm) is very small and due to the very small L2 dimension of 390mm (length including fork back), no pallet space in the truck is omitted.
At LogiMAT, the Clark portfolio will be completed by the SX16 and PSX16 electric pallet trucks and the PX20 electric pallet stacker.
Hall 9, Booth B61.
OTHER ARTICLES IN THIS SECTION