ARTICLE
Flanged filter range extended
14 August 2013
Hi-line Industries has extended its HFF range of flanged filter units which it now offers in seven sizes from DN80 up to DN300, covering air flow throughput rates from 1700 to 15,000 scfm.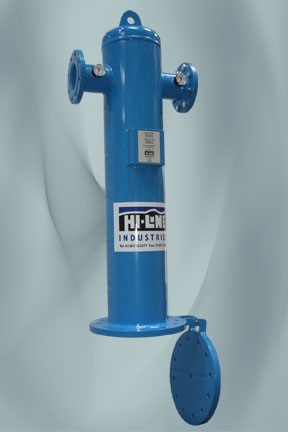 These filter housings have been designed with energy efficiency in mind, combining smooth, burr-free inner surfaces with in-line ports sized optimally to match required system flow rates. Incoming air entering the filter housings passes through a stainless steel head which transfers the compressed air flow through the filter elements, resulting in a low differential pressure.
Use of in-line rather than offset ports ensures a compact and simplified installation, while also providing easy access to the filter element chamber for service/replacements. A davit hinged bottom lid is also used on the filter housing so that filter element change out is a fast and ergonomic process easily and safely undertaken by only one person.
Once the lid fixing nuts have been released, the bottom closure lid swings clear under its own weight, while still remaining securely attached to the filter housing. This bottom housing lid is also fitted with a central zero loss auto condensate drain as standard.
OTHER ARTICLES IN THIS SECTION