ARTICLE
Air hoists for foundry conditions
01 October 2013
A range of air operated hoists manufactured by J D Neuhaus have been designed to provide safe and reliable load handling, with 100% duty ratings and minimum downtimes to maintain maximum production efficiency, no matter how difficult the working conditions.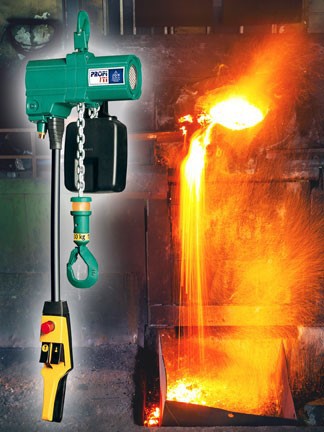 The absence of any electrical or electronic equipment, combined with highly robust air-vane motors ensures that the JDN range is suitable for operation even in potentially explosive atmospheres in the toughest foundry conditions.
The Mini series of JDN hoists can be supplied for load capacities of 125, 250, 500 and 980kg. Compact and lightweight, the hoists can be supplied with trolleys for overhead rail mounting to accommodate load traversing operations, utilising manual, reel chain or motorised trolley operation. A Mini Manipulator version can also be provided for single handed load handling and positioning.
OTHER ARTICLES IN THIS SECTION