ARTICLE
New intelligent valve from Bürkert reduces pipework by switching multiple flows
04 August 2014
The ideal valve for use in a hygienic processing environment is easy to clean using CIP, contains a low internal volume and a minimum number of connections as well as offer super precise flow control abilities.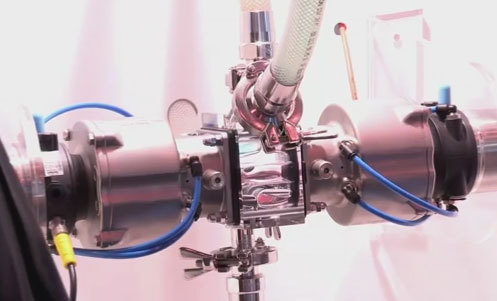 These exact criteria were used to design the revolutionary Robolux valve from Bürkert, which, now compatible with its ELEMENT control heads offers a cost saving, space saving, intelligent field device which is ideally suited for use in pharmaceutical, chemical, food and beverage processing applications..
Hygienic processing places high demands on the reliability and cleanability of production facilities. Common challenges such as corrosion in pipe systems, valve manifolds and tank installations in different pharmaceutical, chemical and biotech facilities for example can be reduced, thereby reducing costs and improving plant availability - by using multiport valves and multiport-based manifolds. Multi-port solutions such as the Robolux valve were developed with exactly this type of high-purity installation in mind..
Reduced installation space
The stand-out feature of the patented Robolux valve design is that two independent process switching functions can be achieved with one membrane. This reduces the installation space requirement, eliminates T-adapters and minimises the overall number of valves and membranes required. The multi-port membrane valves were designed for high-purity installations and make it possible to design complex systems that are considerably more compact than those using conventional fluid control valves..
The design is also intended to minimise the internal volume and produce no dead flow zones, which results in a number of advantages: In addition to improved flow and evacuation properties, both cleaning and changeover of the interfaces for the manufacture of other products is easier and faster, with less wastage of expensive chemicals and ingredients..
This technology makes it possible to replace two traditional shut-off diaphragm valves and at the same time eliminate all dead legs and one tee-piece with one single valve. When combined with reduced installation and commissioning costs, the Robolux valve delivers a number of crucial advantages to process control within hygienic applications..
Unique testing ability
Bürkert is able to test cleaning cycles and provide 100% reliability on the flow properties and cleanability of the complete valve by using a riboflavin test rig. As part of a factory acceptance test, Bürkert is currently the only manufacturer of fittings and valve interfaces in the world that owns and operates such a test rig. In hygienic applications where CIP / SIP are operated, it is essential to be able to ensure the cleaning cycle is both effective and efficient; a criterion which can be completely fulfilled and demonstrated by Bürkert..
Intelligent field device
As part of the concept to decentralise valve control systems, the Robolux valve can now be combined with Bürkert's ELEMENT control head to provide a complete process solution which is compatible with the entire valve product range. The valves at field level can be equipped with all the required automation components including pilot valves, electrical feedback units and optical status indicators. By integrating an AS interface as a field bus interface, the entire range of advantages of this approach can be fully utilised. All that is required for power supply, feedback and communication is a two-wire line connecting the PLC with up to 62 valves. .
Decentralised control
The new decentralized automation concept can provide a viable and extremely compact alternative to the use of central switching cabinets by integrating all the required automation functions in the control heads themselves. This provides considerable savings in installation costs and also provides commissioning and maintenance engineers with an instant indication of the status of each valve, which reduces the amount of time required for installation and trouble-shooting..
Operational feedback
Using the control head as a central unit for the control of the hygienic process valves, enables it to perform all pneumatic actuation, feedback and diagnostic functions, as well as bus communication. A three-colour optical status display with high-power LEDs, which is integrated in the control head, provides for a visual overview of the valve status at the field level. In addition to electrical feedback to the master controller, it also signals the current switching position of the process valve, facilitating diagnosis and maintenance within the system itself..
Due to the compatibility of the IP67 ELEMENT control head with a wide range of process control valves from Bürkert and many other manufacturers, greater plant standardisation can be achieved by equipping process system with components from the ELEMENT platform..
OTHER ARTICLES IN THIS SECTION