ARTICLE
GSM Graphic Arts is the UK's leading manufacturer of industrial labels, nameplates and product fascias.
02 February 2016
At Southern Manufacturing 2016 we will be showing samples of our comprehensive range of bespoke product labelling solutions, from vinyl labels to anodised aluminium and etched stainless steel nameplates, 3D logo badges to graphic overlays and control panels.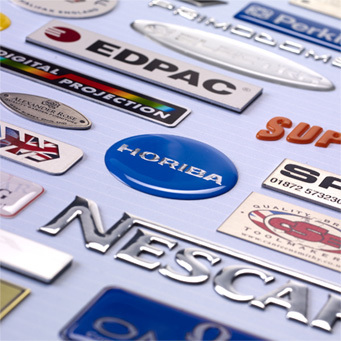 GSM Graphic Arts offers the complete one-stop service with experience gained from over 40 years in manufacturing. Whether you require rugged barcode labels, serial & rating plates, graphic overlays or 3D product logo badges then we can provide the perfect solution for your labelling project. Our experienced Sales Team will listen to your requirements and ensure that we offer a product specification which is best suited to your particular application.
GSM can also provide an inhouse artwork and design service to ensure that not only do your labels contain the required information but they look great on your product. With the latest high resolution digital printing capability we can reproduce full colour logos as well as unique data either undersuface printed on plastic or anodised into aluminium.
Come and meet us on Stand R7 at Southern Manufacturing or visit our website www.gsmgraphicarts.co.uk to discover the benefits that GSM Graphic Arts can offer for your product labelling projects.
OTHER ARTICLES IN THIS SECTION