ARTICLE
Latest variable speed drives: Dust and splash proof
18 March 2016
A new range of IP55 enclosed variable speed drives has been launched by Mitsubishi Electric. The dust and splash proof units are the latest additions to the FR A800 series of drives and are designed to provide variable speed control in demanding applications and where the control architecture is decentralised.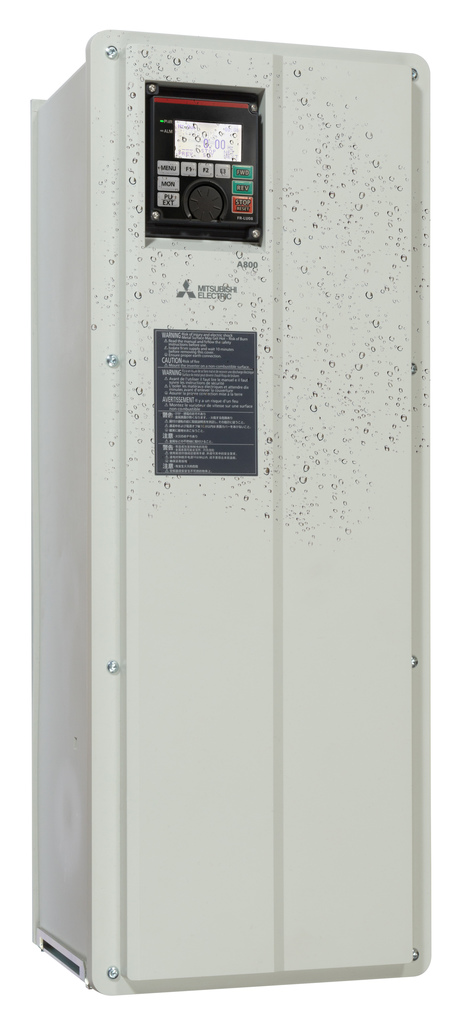 Designated FR-A846, they represent Mitsubishi Electric's latest drive technology and feature a state of-the-art high speed processor in addition to energy saving features and very low harmonics. The output range is from 400W to 160kW.
An EMC filter, built in as standard, ensures full compliance with the EMC Directive (EN 61800-3, 1st environment, category C2). A DC reactor – also integral to all units – ensures compliance with IEC 61000-3-12, reducing and limiting harmonic currents so that separate mitigation equipment is not required.
The IP55 series is suitable for operation with both standard asynchronous machines and IPM/SMP (interior permanent magnet/surface mounted permanent magnet) motor technology. A new auto tuning method also allows permanent magnet motors to be set-up quickly and easily.
A key feature of the FR-A846 units is their simple and intuitive operation. A built-in graphical user interface allows direct access to all parameters, while an LCD screen facilitates at a glance monitoring and setting. They can also be programmed using Mitsubishi Electric's iQ Works programming environment.
Other features include data logging functionality and a built in PLC, allowing the drive to form the heart of a full, standalone automation system.
OTHER ARTICLES IN THIS SECTION