ARTICLE
Portable methane detector
15 October 2016
A new Laser Methane mini (LMm) gas detector from Crowcon combines full ATEX approval with a new green laser guide-light for improved visibility across a range of conditions, including strong sunlight.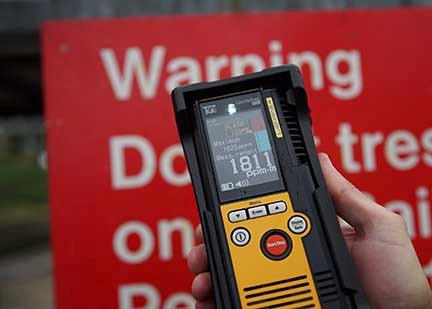 The use of infrared laser absorption spectroscopy enhances safety by allowing operators to remain at a safe distance from potentially dangerous leaks and provides an almost instantaneous response in the presence of methane gas.
The LMm has a range of 30m in standard mode, or 100m with a reflector. As the laser beam can penetrate some transparent surfaces, such as glass, LMm also detects methane through a window, allowing closed premises and confined spaces to be checked faster and more safely.
LMm is ATEX approved for use in explosive environments, including remote-monitoring applications such as closed or confined spaces, above-ground riser pipes, and pressure-regulating stations.
The typical response time of LMm is just 0.1s, makes it suitable for quickly scanning an area for a suspected leak and further minimising the time that operators are exposed to a potentially hazardous environment.
Compact and lightweight, LMm performs a shelf check and an internal calibration at start up. This requires no training and ensures readings are always accurate and reliable. LMm doesn't need regular recalibration.
OTHER ARTICLES IN THIS SECTION