ARTICLE
Drum grabs for nuclear disposal
08 December 2016
Contact Attachments has manufactured and supplied two bespoke hydraulic Drum Grabs for Magnox, which will be used to lift and transport 750mm diameter waste drums containing nuclear Fuel Element Debris (FED), before being transported to a purpose-built storage facility. The attachments are to be fitted to two BROKK 330, specialist remote-control demolition robots.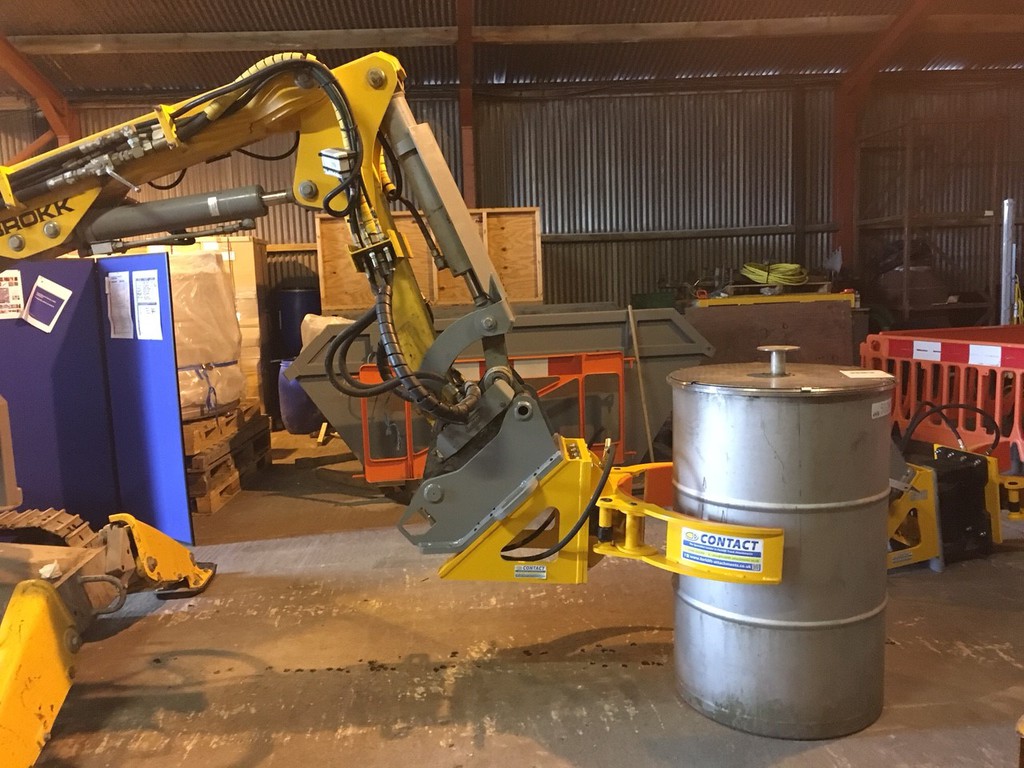 Due to the nuclear environment Contact Attachments' Drum Grabs are being used in, its BS EN 9606-1 Coded team welded the products to BS EN ISO 15614:2004, before then undergoing Magnetic Particle Inspected tests to meet BS EN 17638:2009. Upon completion, the Drum Grabs were visually inspected to BS EN ISO 17637:2011 standards.
Jonathan Hall, mechanical engineer & NRE on behalf of Magnox, which safely manages 12 nuclear sites and one hydroelectric plant in the UK for the sites' owner, the Nuclear Decommissioning Authority (NDA), explained: "There are currently 126 baskets containing FED situated within a concrete void which require relocating, before being safely disposed of.
"This requires us to core an access hole into the void, passing the empty drums in, and filling them with baskets using the existing robotic arm located in the void. The drum is placed into the vault using two BROKK 330s fitted with Contact Attachments Drum Grabs, and transported and loaded into a shielded container which is then transferred to the storage vault. With 126 baskets in total, we're expecting to complete the transfer process in approximately three weeks and using 21 500L drums, with trials being undertaken in the active environment beforehand.
"The Contact Attachments team confirmed they were able to manufacture bespoke Drum Grabs which met the stringent guidelines needed to carry out this work, and we were very pleased when they arrived at our site." Jonathan added.
Dave Manuel, technical sales director at Contact Attachments commented: "To manufacture an attachment which was going to be placed in front of a robot was a first for the team here at Contact Attachments, and we're pleased that they met Magnox's expectations. Not only was it manufactured to the very highest quality, but it was also supplied fully tested and compliant with the latest nuclear and health and safety regulations."
OTHER ARTICLES IN THIS SECTION