ARTICLE
Green packaging technology
25 May 2017
Easypack, the UK manufacturer of environmentally-friendly packaging solutions, has unveiled a new suite of packaging innovations that the company says sets a new benchmark in terms of packing efficiency and sustainability.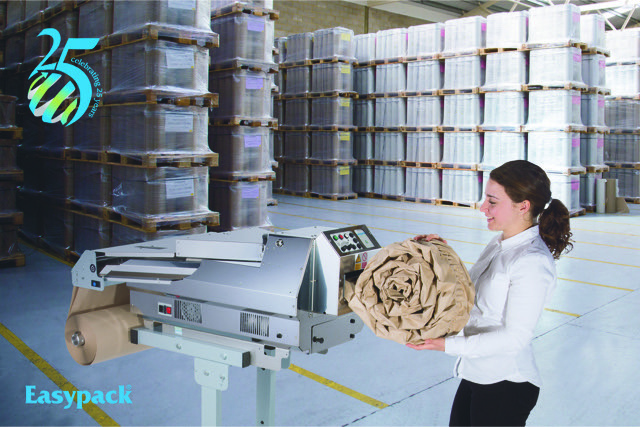 Celebrating their 25th anniversary, the 'pro' range; packmaster pro and packmate pro, are among a number of new products being launched this year. These new solutions are the second generation of Easypack's packmaster and packmate systems, which convert 100% recycled, recyclable and biodegradable paper into a robust, highly versatile packing medium.
The packmaster pro converts multiple grades of 100% recycled single or twin-ply paper at high speeds, creating ultra-strong, paper cushions that are up to 80 times the original paper roll volume. New high speed blade technology has also cut the cycle time by half, offering an increase in packs of up to 35% per minute. The new packmaster pro is Easypack's most advanced protective packaging system to date.
The company has also launched the advanced packmate pro, which shows off its new slimline design and enhanced controls, along with a host of new benefits including its ability to convert multiple grades of recycled paper into cushion packs which are up to 16% stronger whilst using 25% less paper.
The new 'pro' range was designed and engineered in the UK to offer customer's even greater packing flexibility as the new, faster systems can now convert both single and twin-ply paper in multiple grades and colours, enabling customers to pack an extensive range of goods, from heavy industrial goods through to the most fragile of items.
OTHER ARTICLES IN THIS SECTION