ARTICLE
Tall order, but SMI rises to pallet cover challenge
09 December 2019
It was a tall order, 1.8m to be precise, but Seymour Manufacturing International rose to the challenge, creating an adjustable pallet cover capable of providing temperature protection for loads of varying – and frequently changing – heights.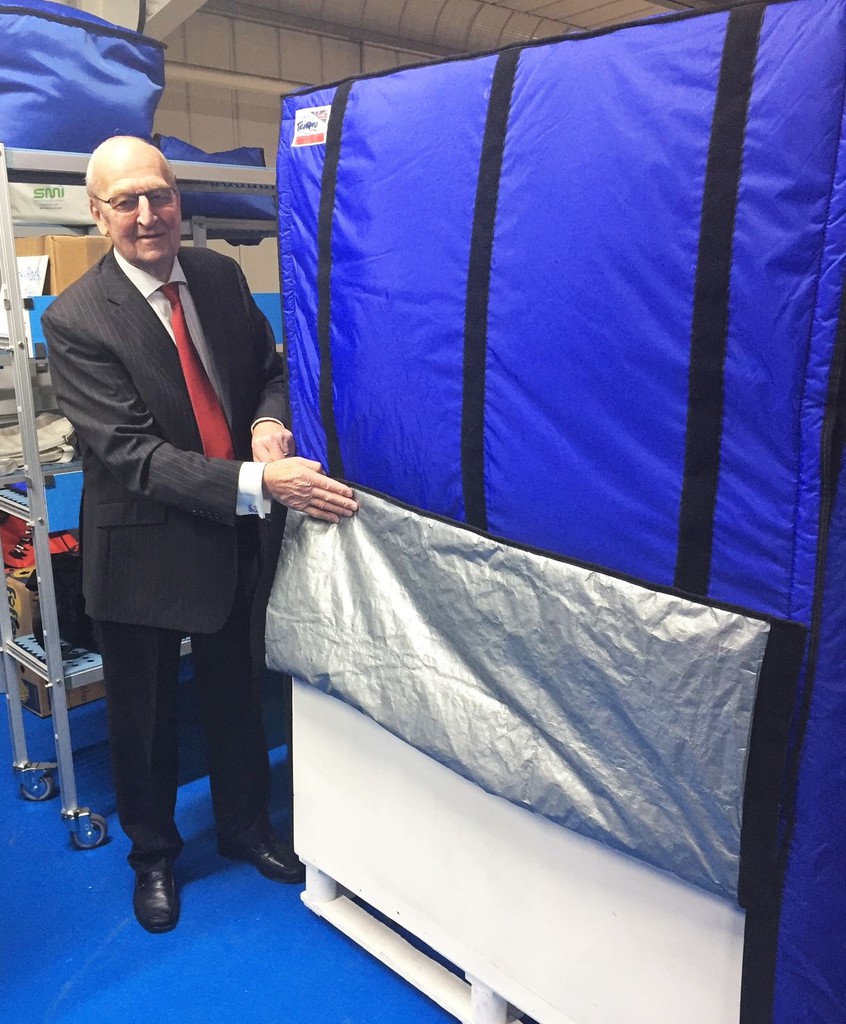 The company says its Tempro adjustable pallet cover has proved ideal for part-reducing or varying pallet loads, achieving temperatures it never previously considered possible.
As the load diminishes, the cover height can be adjusted and fastened into place, increasing the thermal protection for the remaining items on a pallet.
SMI founder, Brian Seymour, explains: "Transport companies told us that although they knew the two regular pallet cover footprint sizes – 800x1200mm, or 1000x1200mm – they never knew what height the pallet might be at the beginning or end of its journey. This was causing problems if they had to draw stock from any one pallet over the course of a journey, adjusting its height.
"It was also presenting them with the impossible task of protecting chilled and ambient from frozen and frozen from ambient and chilled; in fact, any combination of mixed temperature."
The SMI team loves a challenge, and used its award-winning Tempro thermal insulation product to create a snug-fitting heavy-duty cover, adjustable up to heights of 1.8m.
Seymour adds: "As the goods on the pallet reduce, or become less bulky, the adjustable cover can be folded back to provide even more protection, especially near the bottom of the cover as cold sinks.
"So a pallet loaded with goods to 900mm high has double the protection, as the 1.8 metre high material will be folded up to double its thickness at that point. The smaller the height on a pallet, the higher the protection."
SMI now has customers who carry frozen, chilled and ambient products on the same vehicles, using the Tempro covers.
Seymour explains: "Ambient vehicles are the cheapest to run, so if transport companies can carry Tempro-protected pallet covers for frozen and chilled goods, it can save them enormous amounts of money.
"It also offers maximum flexibility and convenience, keeping chilled or frozen goods in their own environment for extended periods in alien conditions."
"The system has worked so well. Some deliveries are made with the pallet cover still fitted, to further the protection at the store or in warehouse before the goods are placed in a cold store or display fridge."
Most pallet covers for this use are printed with the supplier's name, and listed as a delivery item on the paperwork. They are only credited when the cover is returned to the consignor.
Tempro Pallet Covers have proved to be so successful that SMI now keeps them in bulk stock in both footprint sizes.
They can be supplied with hanging handles, document pouches, base mats, and numbered or printed as required. To order online, visit: www.seymour-mi.com.
OTHER ARTICLES IN THIS SECTION