ARTICLE
Promoting pooling
24 July 2014
IPP Logipal, one of the leading pallet and box rental providers to fast moving consumer goods supply chains and to industrial sectors across Europe, heralds the launch of the Pooling Partners brand by parent Faber Halbertsma Group.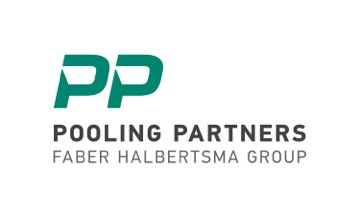 All parts of the group, including IPP Logipal, will operate under the single global new brand – Pooling Partners – and adopt the new 'PP' logo.

Carl McInerney, IPP Logipal's country director in the UK & Ireland, commented: "Pooling Partners, as the new brand for the Faber Halbertsma Group, encapsulates the activities of the group from designing and producing reusable and recyclable items to extensively pooling pallets and boxes across Europe. It will help us to convey the scale of our operations and the value that we can add to customers who want to benefit from pooling.

"Pooling sees us design, provide, facilitate and execute supply chain systems that reuse, return, recover, repair and recycle. The systems are regenerative but we go further by smart use of pallets and boxes, and by seeking ways to minimise transport by working together across the supply chain. We aim to remove empty transport legs wherever we can to reduce CO2 emissions and thus help safeguard the environment.

"We may have a new brand that reflects the sustainability of pooling but we also retain our day-to-day values; quality, simplicity, service, flexibility and value are hallmarks of our business approach. We have based our success on being pro-active and responsive to our customers' needs, allowing them to concentrate on what they do best. The message from Pooling Partners could not be simpler; Streamline your business. Benefit from pooling."
OTHER ARTICLES IN THIS SECTION