ARTICLE
Drag chains for automated press lines
25 September 2019
STROTHMANN is using drag chains from KABELSCHLEPP for its automated press lines.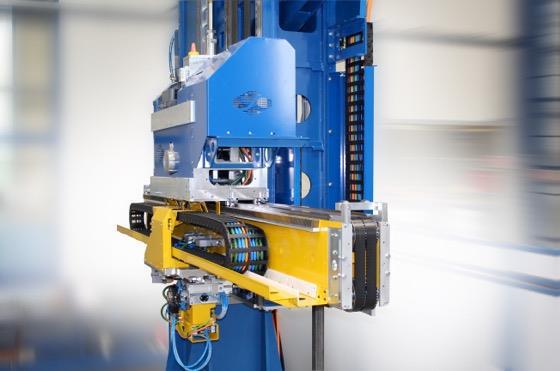 Dirk Thomas, Technical Field Service at TSUBAKI KABELSCHLEPP, explains more:
The automation solutions for press lines from STROTHMANN are individually tailored to each customer and their application. A high level of availability and long service life are guaranteed – requirements that the installed cable carriers also have to meet.
Since its foundation in 1976, the name STROTHMANN has stood for innovations in the field of transport and handling technology. Since then, the company has grown from a component supplier to a line builder with a great range of experience in different industries. Following the principle 'innovation in motion', STROTHMANN continuously develops its products and systems to meet standard and bespoke requirements. Over 120 employees worldwide implement sophisticated solutions in the three divisions PressRoomAutomation, RoundTrack systems and IndustrialAutomation.
The PressRoomAutomation division comprises the development and integration of complete automation solutions for press lines. "The range of products and services also includes modernization projects for optimized production processes and increased system availability," explains Eduard Siegle, Project Manager Development Engineering at STROTHMANN Machines & Handling GmbH. "Many renowned automotive groups and suppliers are among our customers." These systems are not only used for forming car components, though – they are also suitable for transporting components for the furniture industry. Depending on the requirements profile, STROTHMANN designs and implements each system individually for the respective customers.
Three system areas are relevant for PressRoomAutomation: The front of line is equipped with a PCB loader, cycle conveyor belts and a centering station (optical or mechanical). A washing and oiling machine is also integrated into this component. The second system section contains the press tending in the press line depending on the press type, e.g. with Compact Transfer, HighSpeed Transfer or FeederPlus6. Destacking takes place at the end of line, the third system section: Shuttle, robot systems and discharge belts transport the finished components to the containers. "We equip the entire press line, from front of line and the actual press line to end of line," explains Eduard Siegle. "All machines used in this system are equipped with drag chains."
Robust cable carriers
Wherever an axis moves, a drag chain is installed – that is the only way to move the products without coming into contact with lubricants. For each movement, power and signal cables, pneumatic hoses and lubrication lines have to be guided and protected. "One example for this is the PCB loader in the front of line," says Eduard Siegle. "Drag chains are installed on all three axes." On the horizontal crossbeam, the drag chain glides across the entire travel length. A long unsupported length has to be ensured on the vertical axis and the traversing axis.
The automotive industry demands fast cycle times – accordingly, high requirements are also placed on drag chain systems regarding cycle times and travel times. "They also have to be easy to install while maintaining a high cycle time", emphasizes Eduard Siegle. "But what is particularly important is a robust design, as we deal with some rather extreme ambient conditions." This especially applies to systems for hot forming: Here, the PCBs pass through an oven and are heated to approx. 800 - 950°. In this case, the environment is extremely contaminated, as the metal scale in the air settles on all machine parts, including on the drag chain which has to compensate for this contamination. Excessive wear has to be prevented, because a high level of availability and long service life must be ensured for the system.
Application-specific selection of the drag chain
STROTHMANN selects the respective drag chains based on the application and the technology used. "In the case of the hot forming described, we usually choose the particularly robust drag chains from the M series, more specifically the ME0950 model. This drag chain type ensures longer unsupported lengths in the upper run," says Eduard Siegle. "For less strenuous operating conditions, we generally use the UNIFLEX Advanced 1665." Standard models are selected to be able to guarantee fast spare parts deliveries for end customers – STROTHMANN only orders customized solutions in very special individual cases. In addition to drag chains, the company also purchases TRAXLINE cables and pre-configured cables for servo motors from KABELSCHLEPP.
Drag chains from the M series
The M series from KABELSCHLEPP Metool is specially developed for use in difficult conditions. These are multi-variable chains with plastic drag chain straps and stay variants made from plastic or aluminum. The users benefit from a large selection of vertical and horizontal stay systems and dividing options for the specific cables. The link plate design is extremely stable with an encapsuled stroke system. Locking bolts make the drag chain very easy-to assemble and enable it to be lengthened or shortened quickly. Replacement is then even possible when the system is already completely equipped and assembled. The M series can be opened quickly on the inside and the outside for cable laying, saving time during assembly and any possible maintenance work. The pull and push forces are transmitted by the joint design optimized for this purpose – the 2 disc principle. This minimizes link wear and greatly increases the service life. The replaceable glide shoes made from abrasion resistant special plastic make the M series suitable for fast, gliding applications.
The UNIFLEX Advanced series offers reliable solid plastic drag chains with fixed chain widths. This KABELSCHLEPP Metool all-rounder is not only low-noise and lightweight, but also robust and therefore suitable for a wide range of applications. Reinforced wear areas on the outside ensure an especially long service life for applications laying on their side. Thanks to the ball-joint mechanics of the crossbars, it can be opened very quickly, allowing fast cable laying. When open, the crossbar remains on the chain link or it can be removed completely by turning. A special opening tool is available for particularly fast and gentle mounting. It can also be used on UNIFLEX Advanced models with cables installed. Users can open one meter of cable carrier in just three seconds with this tool.
"We are fully satisfied with the cable carriers used," emphasizes Eduard Siegle. "They meet all our requirements, such as fast and easy assembly. It is also important that we can guarantee several thousand cycles to our customers thanks to the long service life of the drag chains."
The development engineer also praises the personal collaboration with experts from KABELSCHLEPP: "As a manufacturer of special-purpose machines, we manufacture many prototypes. If a drag chain does not fit despite the calculations we made, the field service engineer quickly turns up with a replacement model and sometimes even installs it personally."
As STROTHMANN presses are sold worldwide, a global service was also an important factor for the company. KABELSCHLEPP is one of the few manufacturers of drag chains to offer this. "If a replacement drag chain is required globally as quickly as possible, that is not a problem," Eduard Siegle concludes. "All these are reasons why we would always choose KABELSCHLEPP again."
OTHER ARTICLES IN THIS SECTION