ARTICLE
Solid carbide end mills and high performance drilling products
12 December 2019
At Southern Manufacturing 2020, Guhring will be giving exhibition premieres to products such as its high-performance line of end mills and the latest addition to its holemaking portfolio.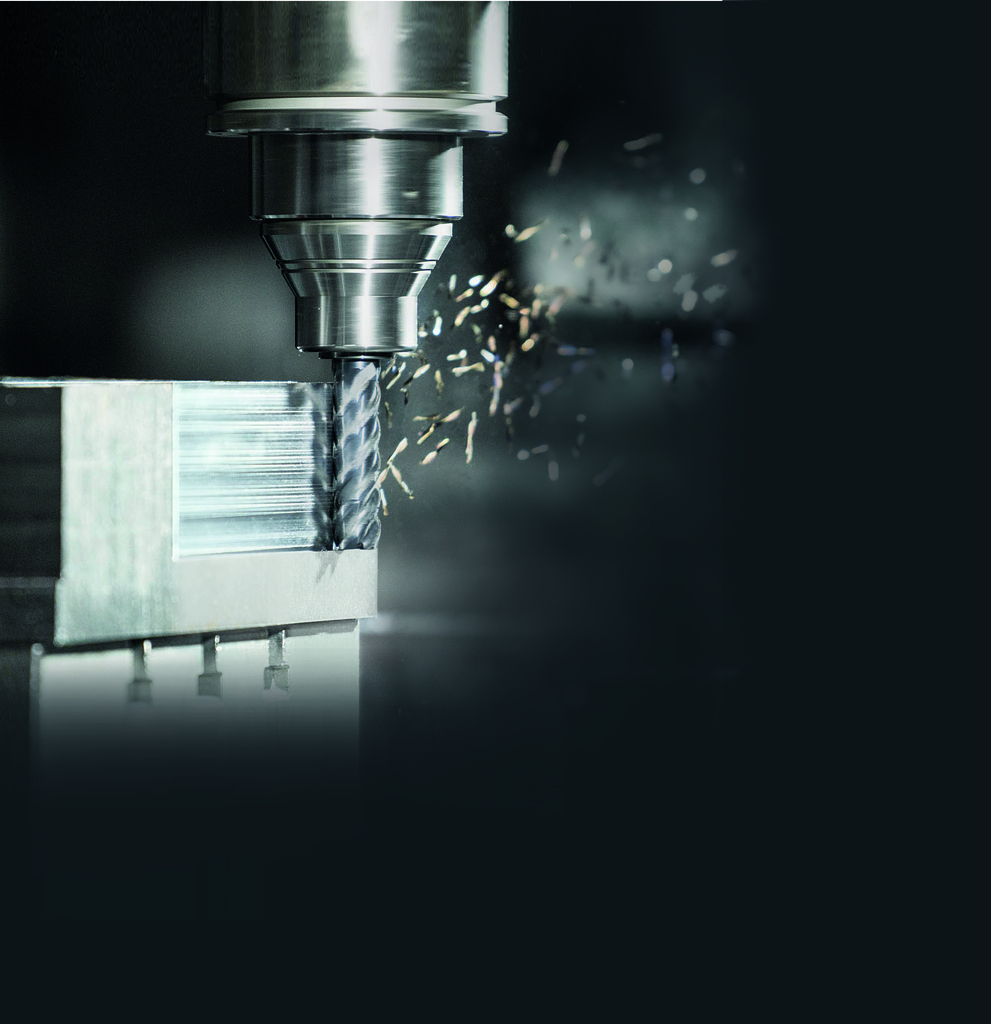 Visitors will have an opportunity to investigate the new Guhring RF Speed milling range that has been developed for the machining of very tough materials. The latest arrival, the new RF100 5-Speed and RF100 7-Speed solid carbide end mills are said to take cutting speeds and process reliability to a new level and show visitors can discuss the opportunities with the Guhring team.
The increased tooth number of the five-fluted 5-Speed and seven-fluted 7-Speed generate high metal removal rates with stable process reliability, even when processing the most difficult-to-machine materials. Providing high-performance roughing at high cutting depths, the two new ranges maximise feed rate parameters during large metal removal rates. As part of the highly dynamic Guhring Trochoidal Cutting (GTC) series, the new RF100 5-Speed and RF100 7-Speed are suitable for machining tough stainless steels, special alloys and a wide variety of steel and cast-iron grades.
Alongside the RF Speed milling line will be the new RT100XF, the latest in a long line of high-performance drilling products from Guhring. Branded as 'Extreme and Powerful', the new RT100XF has been developed to generate outstanding feed rates and exceptional metal removal rates. Created to reduce cycle times for difficult-to-machine materials and special applications in series production, the extremely hard new drilling line is said to be extremely resilient to potential breakages. This bold claim is based upon the new carbide grade developed by Guhring for the RT100XF that performs a balancing act between hardness and toughness.
The design and geometry of the new RT100XF supports the robust performance of the carbide grade and surface treatment with an early double margin support that perfects the coaxiality to ensure perfect bore size and roundness. The RT100XF offers precision, concentricity and performance for hole making from 5xD upwards. Available in 5XD and 7XD, the new drills can be purchased in diameters from 3 to 20mm diameter with 0.1mm increments. Furthermore, the series is also offered with all common imperial dimensions.
For manufacturers investigating the available cutting tools for machining composite materials, the Guhring team will be on hand to demonstrate and discuss some of the new products from the newly published 'High Performance Tools for Machining Modern Composite Materials' brochure. Available to download from the Guhring UK website, the 24 page publication includes the latest solid carbide and PCD drills and end mills, taps, slot drills and PCD compression milling cutters. With CFRP, GFRP and multi-layered FRP materials increasingly making an entry into a broad range of industrial applications, Guhring has evolved its product offering to meet the ever evolving needs of the market that ranges from the aerospace, automotive and power generation sectors through to the marine, medical, sport and hobbyist.
The new publication introduces new and extended product ranges that includes solid carbide stub drills and Kevlar drills from 2.5 to 10mm, the CR100 and FR100 geometry CFRP/GFRP end mills, ISO metric machine taps and 90 and 120 degree multi re-grindable PCD drills. Additional products include the 2, 3 and 4 cutting edge PCD slot drills and end mills with through-coolant.The new solutions are available with a wide variety of shank forms and tolerances, surface finishes and coatings, helix and rake angles and cutting edges.
For further details on any of the new innovations, please visit stand H185 at Southern Manufacturing 2020 (11th to 13th February).
OTHER ARTICLES IN THIS SECTION