ARTICLE
Hot off the press
22 January 2014
Murrelektronik's new general catalogue has 700 pages and features more than 10,000 Murrelektronik products.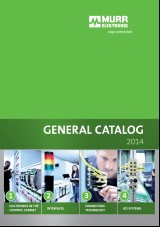 These are categorised into four sections:
• Electronics in the control cabinet: This section details the new Emparro Power Supply with 150% power boost. It also includes MICO+, an intelligent power distribution system for the 24V DC range.
• Interfaces: The new Modlink MSDD front interface panels are included, as is the Modlight Xtreme 440, described as 'Bright as day' and IP69K rated for the toughest environments.
• Connection Technology, including new Ethernet cables for any connection
• I/O Systems, including the new Cube20S which is sid to be small, speedy and safe.
The catalogue can be downloaded at: murrelektronik.co.uk/en/service/informational-material/maincatalog.html
OTHER ARTICLES IN THIS SECTION