ARTICLE
Chiller fleet expanded
08 October 2015
Andrews Chiller Hire says it has virtually doubled its fleet of FC90 Fast Chill models to cope with demand from all sectors of the food and drinks industry.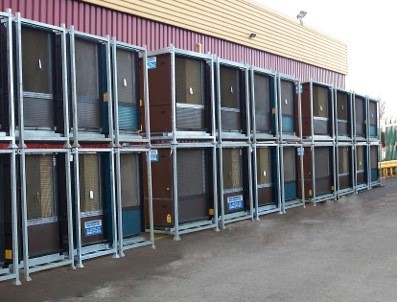 When in-house cooling plant is taken off line for routine maintenance or emergency repair, chiller hire is often the only option available to preserve the quality of stored chilled food. For emergency situations a fast response is required and Andrews Chiller Hire's Fast Chill range was introduced for such applications.
The simple plug-and-play concept means that, once on site, the chiller will be ready to run in minutes. A powerful fan delivers up to 10,000m3 cooled air flow with a capability down to -10°C, and the ability to maintain local environments to within 0.5°C.
Apart from a three-phase power supply, there is no requirement for additional services such as water fill or refrigeration connection. Where no power supply is readily available Andrews can supply a suitable generator.
Andrews Chiller Hire, part of the Andrews Sykes Group, has invested heavily to increase the number of FC90 units readily available for hire to more than 50 units, and with 25 depots strategically positioned across the UK the company is confident of providing rapid response – within four hours, anytime, any day.
The FC90 is a two-part system; the self-contained, split line fluid chiller incorporates compressors, evaporators and an external heat exchanger, each part supported in a sturdy crash frame that protects and helps positioning on site. The crash frame also acts as a structural support that enables units to be stacked to create neat banks.
These temporary chillers are suitable for applications such as large-volume air conditioning (planned or emergency), low-temperature production facilities and cold stores or food storage at temporary events.
OTHER ARTICLES IN THIS SECTION