Home
>
T Cards Online & Manual Display Systems – Simple & Effective In Providing The Power Of Information
ARTICLE
T Cards Online & Manual Display Systems – Simple & Effective In Providing The Power Of Information
02 February 2016
The successful T Cards Online system which enables users to manage workflow in real time using the simple drag-and-drop technique, moving cards around the 'online board' to reflect current status, will be on display at Southern Manufacturing stand G140.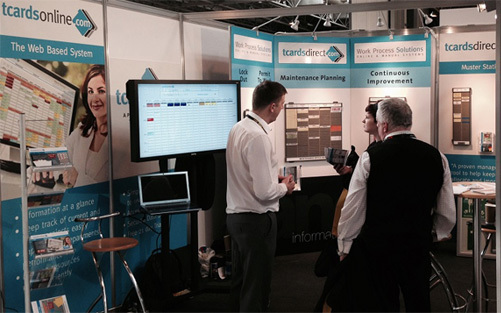 Launched in 2010, T Cards Online has become established as the market leading online workflow monitoring system and benefits hundreds of customers across the UK who appreciate the convenience and flexibility of online access to essential information.
The T Cards Online system was a logical development for T Cards Direct to apply their extensive experience gained over many years of developing and marketing their manual based T Card Board and Card system. In many other manufacturing applications, especially in providing Health & Safety information, the manual board system remains the best solution and these products will also be on display.
Providing information and communicating with staff and colleagues in the workplace is essential, particularly when hazards, incidents or near-misses occur, along with maintenance planning which may impact on others. An effective, low-cost solution to 'getting the message across' is the Near Miss / Incident Reporting / Maintenance Planning System boards available from T Cards Direct..
With compliance and accountability being increasingly important in the work place, these manual board systems provide a record and history with traceability from the time the incident occurred or when maintenance is scheduled. The standard display board is available in a 3 column format with standard 50 or 30 cards deep and measures 409mm wide and is supplied fully assembled, complete with headings and 200 Incident T Cards. There is also the option to have the system made to a bespoke format.
The T Cards Online System along with examples of manual boards for Near Miss / Incident Reporting / Maintenance Planning / Continuous Improvement applications, will be on display at Southern Manufacturing and reflect T Cards Direct 45 years of experience in providing effective and affordable information systems.
Click here for more information: https://www.tcardsonline.co.uk/?gclid=CKTNhpHAq8kCFSoEwwodYvYDNw
RELATED ARTICLES
No related articles listed
OTHER ARTICLES IN THIS SECTION