ARTICLE
Online management of workflow
21 October 2015
Keen to optimise its after-sales and accident repair centre, Knights Group in Staffordshire, a BMW main dealership wanted to ensure that it managed each of its jobs in a clear and precise way to give technician, workshop controller and bodyshop manager access to the weekly workload and current status.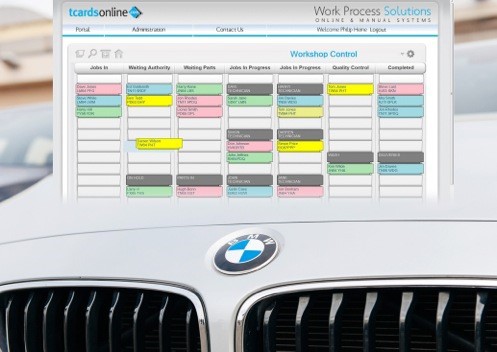 This can be complicated if communication between departments is reliant upon word-of-mouth updates, manual checking of paperwork, or having to log on to dealer management systems to check the status of a repair.
After reviewing various systems on the market, Knights selected T Cards Online on the basis that it provided the features needed. It was installed in August 2014 and has proved to be successful, with Knights acknowledging that the system is saving time and money. Developed and fine-tuned over a period of 4 years and launched in early 2013, the T Cards Online workflow monitoring system replicates the manual card and board T-Card system It enables users to manage workflow in real time using the drag-and-drop technique, moving job cards around the board to reflect current status.
It features password-protected login and enables multiple remote access from anywhere in the world. All historical data is maintained so that it can be copied and reused at a later date.
A benefit of the new T Cards Online system is its simplicity. Once the virtual board has been configured to meet individual requirements new cards are opened from the main menu bar. There are standard templates for Vehicle Workshops, Parts Ordering and Vehicle Stock Control. T Cards can also be tailored enabling Alarms, Signals and email notification to be added and there is also a facility to attach external documents. Since a number of cards will appear on the same chart, they can be colour-coded for easier identification and as work progresses the cards are simply dragged and dropped into a new column.
Christian Cerrone at Knights of Stafford comments: "We looked at various systems but decided on T Cards Online. As a work flow management tool the system is excellent, it has enabled us to upgrade from the manual system to one which is easily accessible via PC's in our different departments."
OTHER ARTICLES IN THIS SECTION