Home
>
Compressor breathes life into Notre Dame organ
ARTICLE
Compressor breathes life into Notre Dame organ
05 June 2016
Via its French distributor Enerfluid, the Gast Group has supplied and installed a Jun-Air OF1202 compressor for "Le grande orgue de Notre Dame de Paris", the main organ at Paris' Notre Dame Cathedral.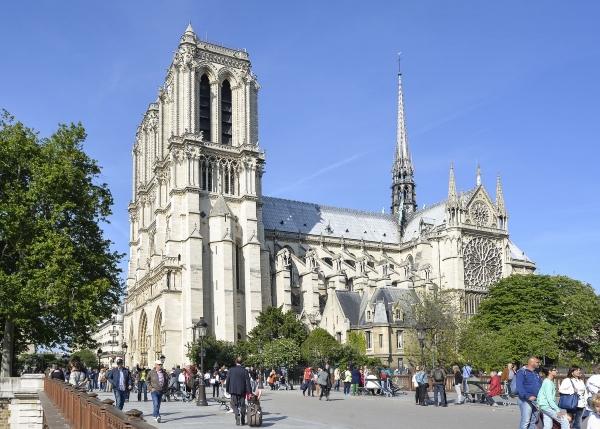 As part of the organ's pneumatic system modernisation the pneumatic stop tie machines were completely restored and a register system, motorised by high-pressure pneumatic actuators, was supplied to replace the old "Cavaillé-Coll" system.
An oil-free JUN-AIR OF1202-40MQ3 compressor was specified for the new pneumatic system thanks to its combination of low operating noise and for providing a supply of clean compressed air – that is free of oil, water and dust – to the air cylinders, which are opening sets registers to ring the pipes installed in the organ.
The JUN-AIR OF1202 compressor serves as the compressed air source for the control system for the instrument, with the amount of air supplying air cylinders which are activated depending on which sound is desired from the organ. For this type of control, a set of pneumatic cylinders have been installed above the Cavaillé-Coll system and provide a force of 200N on an adjustable stroke of up to 6cms and with a working pressure of 1.2bar. This allows for the full Cavaillé-Coll system to remain in place.
Commenting for Orgues Quoirin, engineer Laurent Mesme says: "The JUN-AIR compressor has been installed in the north tower room next to the organ and has actually enabled us to use a very similar technology that Cavaillé-Coll has used for 150 years. It's just more modern and miniaturised."
Very little in the transmission of the draw of the original games elements has changed and the operation of the assembly is as quiet as that of the original Cavaillé-Coll pneumatic machinery. Additionally, because the JUN-AIR compressor is enclosed in a soundproof box, it is virtually inaudible.
As Mesme continues, the JUN-AIR equipment has also solved a servicing problem for the customer as the OF1202 compressor can run for several thousands of hours without maintenance, which is essential for this installation.
The JUN-AIR OF range of oil-free, ultra-quiet compressors provides clean, dry air for a wide range of applications. It has an output of up to 260 l/min at 8 bar and the 50/60Hz dual-frequency also provides greater flexibility for exporting OEMs, as it can operate anywhere in the world without the need for modification. Versions are also available to operate at 10 bar maximum pressure.
Like all oil-free compressors from the Gast Group, the OF range is extremely quiet, operating at just 65 to 79dB(A) as free standing units. When housed in optional silent-running cabinets noise levels are reduced to between 46 to 63dB(A).
RELATED ARTICLES
No related articles listed
OTHER ARTICLES IN THIS SECTION