ARTICLE
Dew-point transmitter for compressed air quality
28 August 2019
Michell Instruments has launched a fast-responding dew-point transmitter for compressed air quality – the SF82.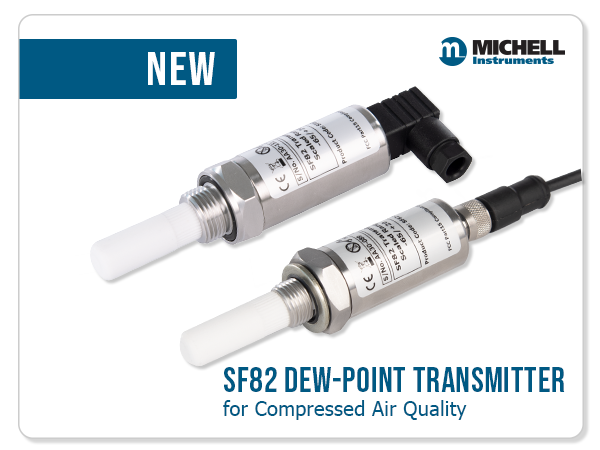 In compressor rooms temperatures can easily reach 50°C, while measurements of dew points below -60°C are required. Recognising this challenge, Michell's engineers designed the SF82 to operate effectively in these specific conditions.
The new moisture transmitter uses the PST Group's thick-film measurement technology coupled with microcontroller electronics to provide accurate and stable measurements. As well as an ultra-fast response to moisture changes, the dew-point sensor has an accuracy of ±2°C dew point.
It is suitable for use in all types of industrial dryers: refrigeration dryers, membrane dryers and absorption dryers. Because compressed air is a ubiquitous utility, the moisture sensor has applications in a wide range of markets including medical and surgical air, breathing air, plastic injection moulding as well as compressed air used for instrumentation.
The new unit has dual analog and digital outputs for use in electronic monitoring and control systems – including cloud-based Industry 4.0 systems such as the Rotronic Monitoring System (RMS). With both mini-DIN and M12 pin connectors as well as a wide range of process connections, it is compatible with all global standards for easy installation and integration with existing equipment.
The sensors come calibrated to one of four standard measurement ranges to cover the requirements of industrial dryers in various applications. Non-standard ranges are also available on request to ensure complete flexibility.
OTHER ARTICLES IN THIS SECTION