ARTICLE
Industrial wipers: Selection matters
30 April 2015
Long-lasting, absorbent, pliable, strong – what are the ideal qualities that an industrial wiper should have? Rachel Thompson of Tork manufacturer SCA shares her thoughts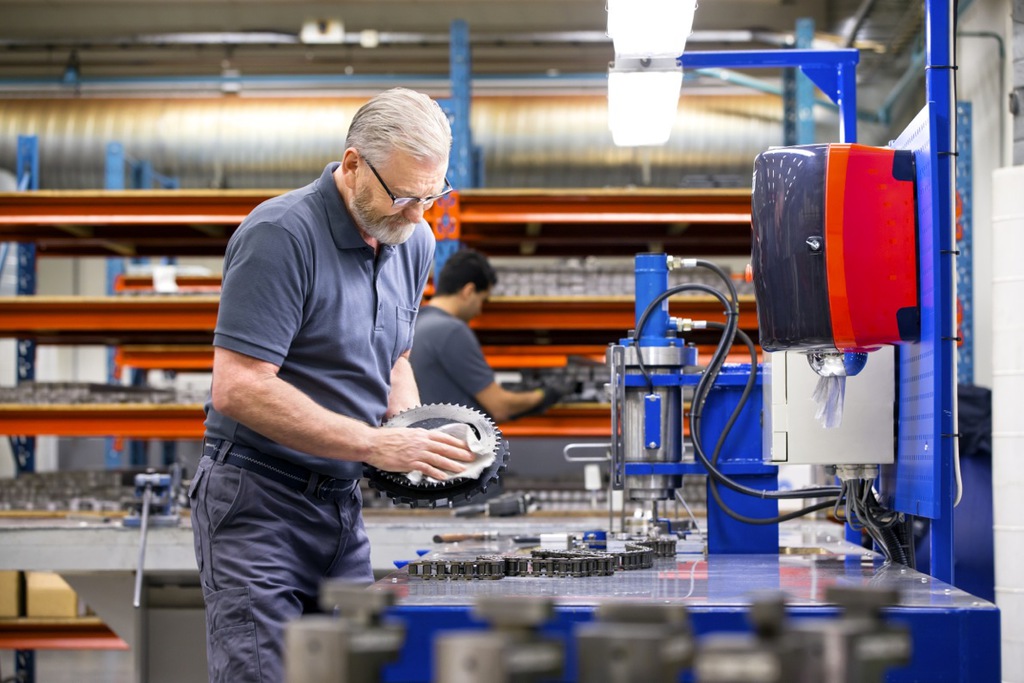 On the face of it, an industrial wiping product has one simple job to do – namely, to clean away dirt.
So why are there so many wiping options on the market? Manufacturers make claims about their products being strong, bulky, flexible, tough, absorbent, etc. But which of these qualities is the most important in an industrial wiper, and why?
Actually, it is not the case that industrial wipers have one simple job to do – they have hundreds. Wipers are required for many different cleaning, wiping and polishing applications. And there is a vast difference between tasks such as mopping oil spills from a workshop floor to cleaning away dirt from a delicate machine or preparing a car's paintwork for a re-spray.
Industrial wipers are commonly used in 'dirty' industries such as heavy manufacturing and mechanical engineering. But they are also used in hygiene-critical environments such as food processing, and in more delicate situations in the pharmaceutical and print industries.
It is therefore important to consider the function of a wiper before deciding what makes an ideal product.
A paper wiper, for example, would not be suitable for tasks where solvents are required since it would soon disintegrate. Similarly a heavy-duty, non-woven cloth would be overkill if one simply needed a convenient wiper for removing dirt from the hands.
In heavy industries where substances such as cooling liquids, oil and grease may be used, these will later need to be removed from machines, cleaning wrenches and other tools. Solvents may be used for this type of operation so a tough wiping product will be required. There may also be metal scraps left behind on the machinery which could scratch the operative's hands.
Here you will require a strong, bulky wiper that will protect the hands from swarf and will not break down when used with solvents. Tork Industrial Heavy-Duty Cleaning Cloth, for instance, is strong and absorbent and works well with solvents. It is also thick and bulky which means it will protect the hands from swarf.
All machines need to be serviced regularly and any residual dirt should be thoroughly cleaned away. This is particularly true in the food processing industry, since any food remnants could contaminate the next product to be made.
Tork Coloured Long-Lasting Cleaning Cloths work well for regular cleaning and maintenance since they are durable and absorbent, and can be used repeatedly without tearing. They also allow the operative to segregate tasks by colour, important in an environment where there is a high risk of cross-contamination.
During any production process, spills must be removed swiftly from floors, surfaces and hands in order to avoid trips, slips and mess. Tork Wiping Paper Plus is suitable for mopping up light spills and hand wiping, while Tork Heavy-Duty Wiping Paper offers a solution when the spill is particularly large. It has been designed to absorb oil and water quickly and efficiently and has high wet strength.
When a surface is being prepared for painting it must be cleaned of all solvents, fingerprints, dust and oily residue in order to achieve the best results. If a low-quality wiper is used here it could leave lint on the surface which would ruin the paint finish. A cloth such as the new Tork Industrial Low-Lint Cleaning Cloth is suitable since it is extremely low linting and has anti-static properties that make it suited to delicate applications.
There are numerous other types of wipers that are suited to particular tasks or situations. When polishing paintwork, for example, a specialist non-woven cloth should be used in order to protect the surface from scratches and avoid leaving behind lint. Tork Polishing Cloth, for example, has been engineered to obtain a good finish and leave surfaces clean, shiny and streak-free.
Where surfaces need to be cleaned using a liquid detergent, Tork Surface Cleaning Wet Wipes are a convenient option where no water supply is readily available.
In conclusion, there is no such thing as an ideal wiper. But there are wipers that are ideal for specific tasks and environments. Ask your supplier to discuss the options so that together you can come up with the right wiping product for your business.
OTHER ARTICLES IN THIS SECTION