ARTICLE
'Brushless' cordless angle grinders
09 April 2015
Makita has updated two of the cordless angle grinders in its 18v Lithium-Ion tool range.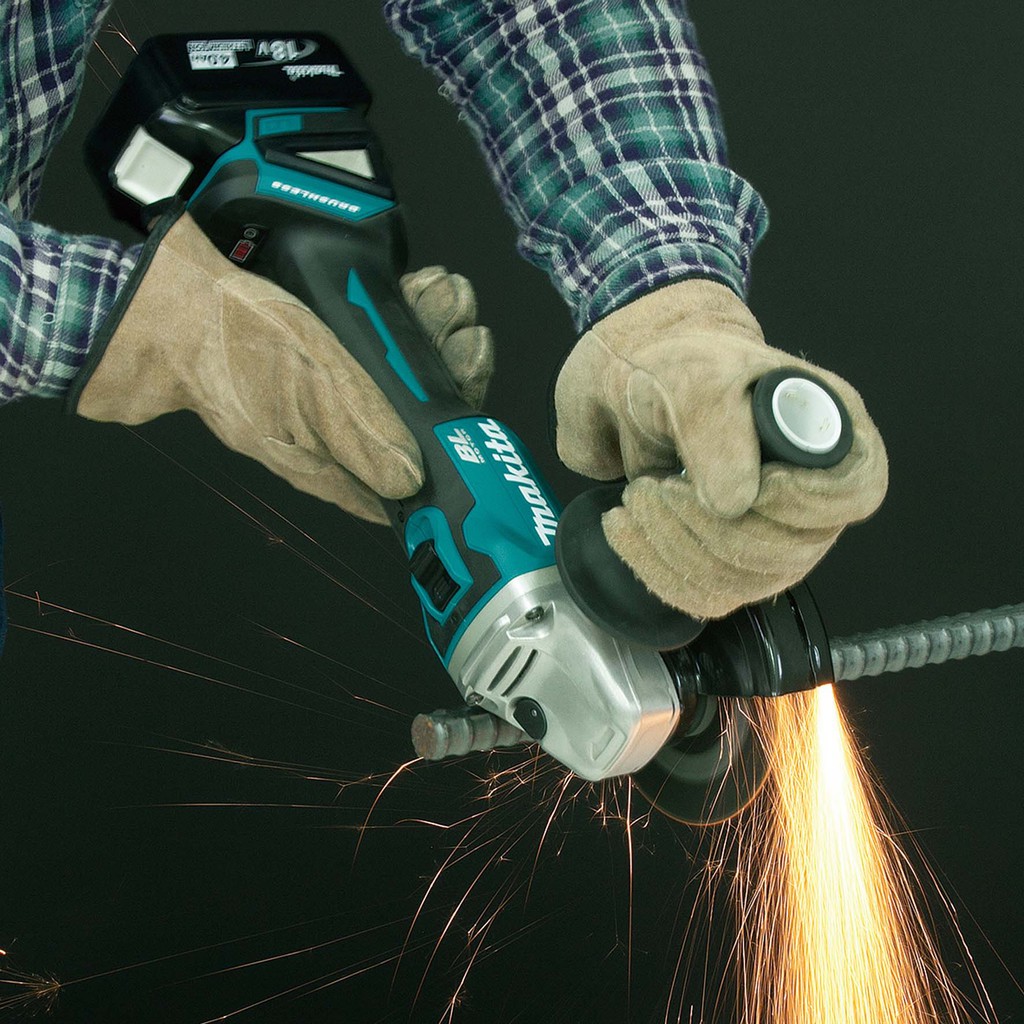 The new Makita DGA454 115mm 4 ½in and DGA504 125mm 5in angle grinders are powered by high torque brushless motors and feature an improved forced airflow system. This drives clean air from the base of the tool over the controller and through the motor body for motor performance and long-life reliability. Removable air intake gauze filters are now fitted for motor protection and simple off- machine cleaning.
This improved 'brushless' motor performance is now married to an electronic constant speed control system that maintains the wheel speed for optimum operation, irrespective of the load being experienced by the wheel drive transmission. The motor and drive system has overload protection should the wheel be snagged. The transmission instantly disconnects the drive clutch and switches off the motor showing the overload light, protecting both the machine and the operator. This feature is coupled to the anti-restart function which means that the control switch has to be moved to the 'off' position and then back to 'run' before the grinder will activate. Should the machine be left in the 'on' position when the battery is removed for charging, the same safety system is triggered.
The new Makita DGA cordless angle grinders have rubberised soft-grip slim bodies with the slide switch control conveniently at 'thumb' position on the top of the body. For tasks that require the grinding wheel to run at an alternative angle, the whole drive head can be turned through 90° simply by removing the four fixing screws, rotating the head and refitting. The wheel guard can be rotated without tools to give maximum protection and a standard low vibration, or an optional AVT side grip can be fitted to either side of the motor head for comfortable control.
The grinders have a soft start feature that builds up motor speed without torque twist as well as battery fuel gauge indicators. The brushless motor will run up to 8500 rpm. A wide range of abrasive and diamond wheels are included in the Makita accessory range to maximise the performance of these new, high performance, cordless angle grinders which are supplied with two 4.0Ah batteries, fast charger and MakPac case, or as body only unit for those already in possession of Makita 18v Lithium-Ion batteries.
New dust extraction guards introduced by Makita to fit all current 5in grinders enhance extraction performance. The new 196845-3 is a neat aluminium extraction guard that encloses the wheel and has a robust extractor port connector. A clearview panel on the side shows the wheel at work. The casing is opened without tools by a simple turn-screw at the top. The grip handle can be fitted in three alternative positions and three depth levels are accurately marked on the casing. A 230mm guard is also available.
OTHER ARTICLES IN THIS SECTION