ARTICLE
All eyes on abrasives at Moorfields
08 January 2015
Moorfields Eye Hospital in London is using industrial abrasive wheels made by 3M in the finishing and refining process of its prosthetic eyes.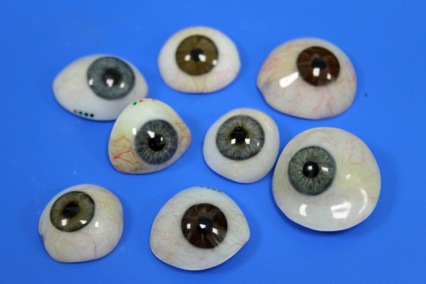 Using the Scotch-Brite EXL Unitised Wheel XL-UW by 3M, Moorfields can quickly and precisely create ocular prosthetics of high quality that frequently transform the lives of patients and their families.
Customised ocular prostheses are usually made for patients who have lost an eye or eyes, or whose eyes have been damaged or otherwise affected by a range of ocular conditions. At Moorfields, customised artificial eyes are hand-made from medical grade acrylic plastic. They are finished with an abrasive – a vital part of the process as there is a need to trim down the acrylic and remove flash without leaving grinding marks on the finished product.
Each custom-made eye takes around seven hours to complete and is hand-painted in front of the patient to ensure a perfect match to their own eye colour.
The process of producing a customised prosthetic eye begins when the patient makes a first visit to the ocular prosthetics department and an impression is made of their eye socket, in much the same way that dentists take impressions to make dentures.
The ocular impression is used as a mould to produce a wax shape, which fits into the socket and is used by Moorfields' ocularists to position the iris, perfect the shape and ensure correctness of gaze. The wax shape is then itself cast into a mould, which is filled with acrylic plastic that is trimmed back using the Scotch-Brite EXL Unitised Wheel XL-UW by 3M.
Thereafter the prosthetic is further painted, with the addition of veins and any necessary tinting of the sclera (white of the eye), as well as any changes that might be needed to the iris, and it is then refined – again using the Scotch-Brite Wheel.
After this, the final product is polished and is complete. Most artificial eyes last for several years, although in children, who are still growing, they have to be replaced more often.
Very often, patients who have just lost their eye, or who are awaiting a custom-made prosthetic, are fitted with a temporary eye from Moorfields' stock. These eyes are supplied in half-sphere forms, resembling half a table-tennis ball, and must be ground down and shaped with great precision. Moorfields uses a Scotch-Brite EXL Unitised Wheel XL-UW for this purpose, too.
The Scotch-Brite EXL Unitised Wheel XL-UW is made of a compressed, non-woven fibre that gives it a uniform grain distribution, leading to consistent results. The EXL material is very tough, with an aggressive cutting action and is therefore suitable for deburring edges and corners without causing any damage to the part. The wheels are available in a range of sizes and with fine, medium and coarse grades, and are particularly suited for work with all types of metal.
OTHER ARTICLES IN THIS SECTION