ARTICLE
ATEX-certified impact wrench
11 October 2019
The CP6748EX, ATEX ½in industrial impact wrench from Chicago Pneumatic is certified (94/9/EC and 99/92/EC) and IP6 rated, with ATEX classification I M2 / II 2GD c IIB 85°C X.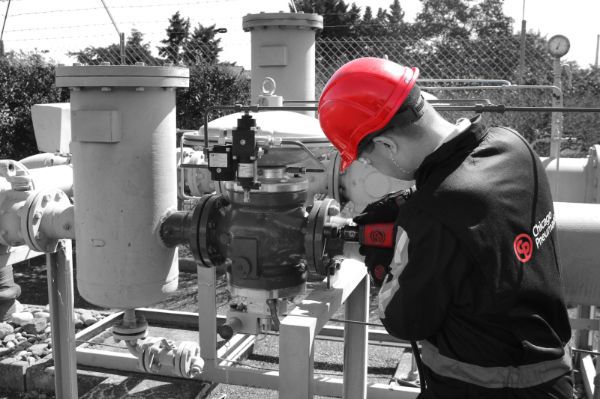 It provides a high level of protection against accidental ignition of flammable gases and dust in both above and below ground environments. The tool combines the benefits of ATEX safety with efficiency, ergonomics, and advanced design.
With an ultimate torque of 1085Nm, 1200 blows per minute (BPM), the tool can meet or exceed Industrial / MRO needs in the oil gas, petrochemical, mining, and minerals processing industries, in addition to food and grain processing.
Durability is maximised thanks to the steel clutch housing, and motor components manufactured from the highest quality plain steel. In addition, return on investment is increased by incorporating reversible end plates and the use of an oil bath twin hammer clutch mechanism which provides constant lubrication and helps reduce tool vibration.
This tool incorporates convenient features such as an ease of use single-handed, glove-friendly, forward/reverse switch and power regulator. It has a friction ring retainer for rapid socket change, balanced grip and progressive teasing trigger and is compatible with CP reaction free balancers with its integrated suspension bail to reduce operator fatigue during repetitive operation.
The Chicago Pneumatic ATEX range also includes a ¾in drive model CP6768EX-P18D and a 1in drive model CP6778EX-P18D ensuring that professionals ultimately have the power to carry out important tasks in these arduous environments.
To help with understanding ATEX, Chicago Pneumatic has developed a range of digital tools to enhance customer experience. For example, its website now has an 'Expert Corner'. This includes monthly articles sharing knowledge on a range of topics, including health and safety, hand arm vibrations, and how to choose the right tools. Customers are encouraged to subscribe directly on the website to ensure they benefit from this resource.
To find out more about what ATEX stands for and the tools available for working in these environments, visit: https://www.cp.com/en-uk/tools/expert-corner/blog/2018-12-ATEX-NEC-DSEAR-what-are-they-and-how-can-they-help-you
OTHER ARTICLES IN THIS SECTION