ARTICLE
Crimper for industrial hoses
14 November 2018
Uniflex has introduced its SL 3-75 hydraulic industrial crimper for hoses from DN4 to DN75mm.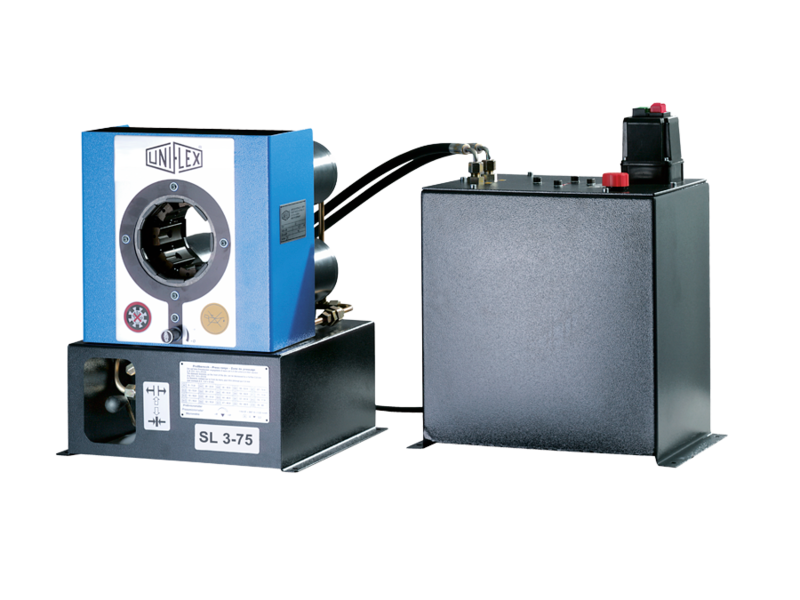 Suitable for hoses used in the food and pharmaceutical sector as well as, for instance, for the production of fire hoses, the new SL 3-75 has a crimp force of 50t (500kN). The opening path of the crimping die is more than 55mm, and the maximum crimping diameter is 88mm.
The design of the SL 3-75 is based on that of the Uniflex HM 200 hose crimper. It features compact, space saving design, high user-friendliness and diversity as well as extremely long life. This efficiency is attributed to the lubrication-free Uniflex slide bearing technology which ensures low maintenance costs, less crimp power loss, and high stability as regards process and repeat accuracy. As the hose assemblies produced with these hydraulic crimpers are not soiled with lubricating grease, they are suitable for the food and pharmaceutical industry.
The technical data of the SL 3-75 shows the versatility of this hydraulic crimper range. With a force of 50 t (500 KN), the machine can crimp hoses with diameters from DN 4 to DN 75 mm. Thanks to the big opening path of the jaws of 55 mm, it is also easy to crimp fittings with a flange – without removing the crimping dies. A machine opening with a diameter of 125 mm without crimping dies and maximum pressing dimensions of up to 88 mm also enables to process larger workpieces, for instance, in the production of fire hoses.
OTHER ARTICLES IN THIS SECTION