ARTICLE
The Fulton steam boiler range
01 September 2014
Fulton manufactures high-performance boilers for industrial applications, with capacities from 13.5 to 5400kg/h.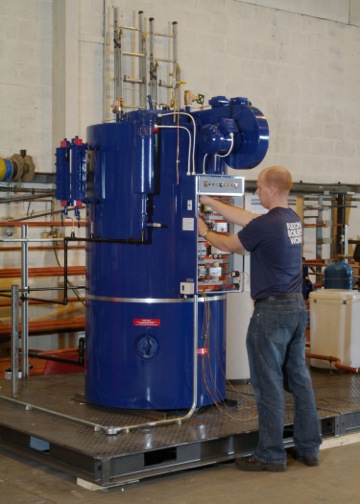 The 'J' Series vertical gas- and oil-fired steam boilers, for example, include eight models with outputs from 96 to 960kg/h. The tubeless design eliminates coils and tubes traditionally used in steam raising plant and enables the unit to raise its full steam output in just 20min. Simple design and robust construction make the boilers suitable for arduous applications in a range of industries.
All Fulton vertical steam boilers are equipped with integral operating and safety controls and can be supplied as a stand-alone unit or incorporated into a pre-assembled skid-mounted or pre-fabricated plant room package, complete with ancillary equipment.
The Series 'J' is made to BS 2790 1992 Class 1 and meets all relevant European and British Standards. Pressure vessels are covered by a five-year warranty and the boilers are backed by Fulton's worldwide service and spares organisation.
The pressure vessels in all Fulton Series 'J' boilers are covered by a five-year warranty and each boiler is fully tested prior to delivery, commissioned by Fulton engineers where appropriate and backed by Fulton's nationwide service and spares operation.
Fulton also manufactures packaged and skid-mounted systems and plant rooms, offering high levels of efficiency and reliability. Any of the boilers in the range can be built as systems or plant rooms, which can be designed to fit the most complicated environments, even those with poor access.
The company's comprehensive service includes initial design, application advice and total after sales support. All boiler systems are designed to be delivered to site and installed on a prepared concrete base. Final installation is made easier by connecting to termination points, pre-installed by the customer, to ensure that the new boiler plant matches existing site services.
OTHER ARTICLES IN THIS SECTION