ARTICLE
Space strategy for enterprise
21 February 2018
The Minister of State for Training, Skills, Innovation, Research and Development, John Halligan TD, has announced the development of Ireland's first national Space Strategy for Enterprise by the Department of Business, Enterprise and Innovation. The Strategy will set out how Ireland can maximise the benefit of its investment in the European Space Agency (ESA) and in the European Union's (EU) flagship space programmes, Copernicus, Galileo and Horizon 2020.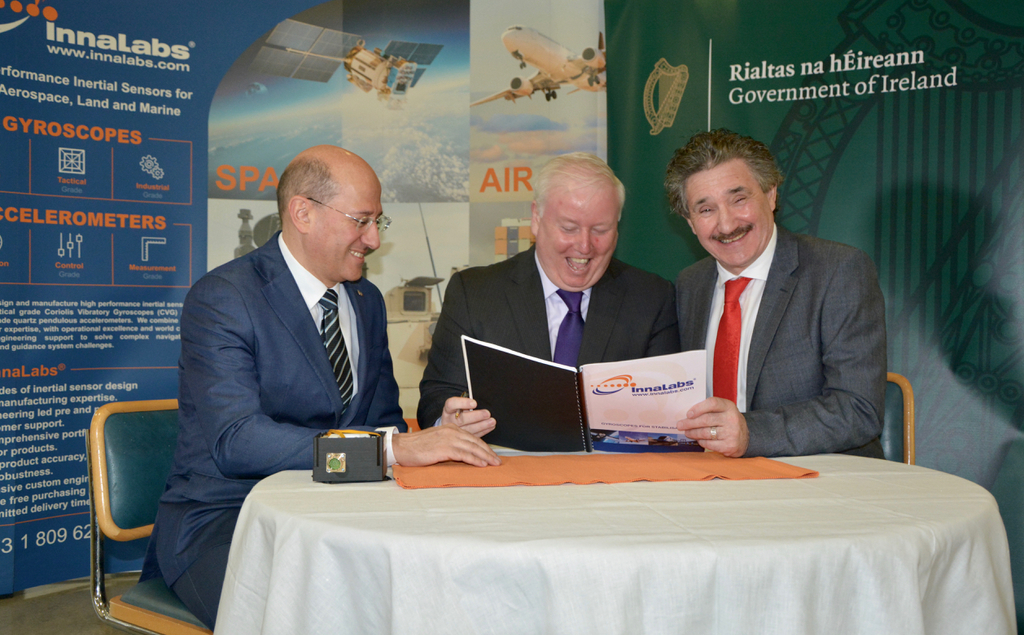 The Minister made this announcement at InnaLabs headquarters in Blanchardstown; the technology company has just announced its biggest contract to date with ESA.
A steering group will be established in the coming weeks to oversee the development of the Space Strategy. This will include a consultation process to seek views from interested parties on how Ireland can best exploit opportunities in the space enterprise sector. Making the announcement, Minister Halligan said: "The space sector is undergoing a significant and rapid transformation. It's evolving from a sector where activities are funded purely by governments to one that relies more on private investments to fund commercial activities.
"More than sixty Irish companies are currently benefiting from contracts with ESA, with five new companies expected to enter the sector each year between now and 2020. Employment in Irish companies which benefit from ESA contracts is expected to double from 2,000 in 2014 to over 4,500 in 2020. By developing this Strategy, the Department will ensure that companies already working in this sector can expand, and that opportunities for new entrants are identified. The Strategy will also seek to identify and explore potential synergies with other sectors, such as ICT and Aerospace."
One of the Irish companies working in the space sector, InnaLabs, has announced a €2.6m contract with ESA to design, develop, manufacture and test a highly reliable radiation-hardened 3-axis gyroscope used for measuring angular velocity or maintaining orientation of satellites. While the initial opportunity is for science mission applications, the technology will serve a large spectrum of commercial space activities including Earth observation, communications and navigation satellites. InnaLabs' gyroscope cutting edge technology is also applied in a wide range of terrestrial applications such as air transportation, autonomous vehicles, marine, civil engineering projects, rail transportation systems and the oil and gas industries.
This contract follows the successful completion by InnaLabs of ESA space projects worth €980k that was secured after an Enterprise Ireland trade mission to ESA's main technology development and test facility, ESTEC, in The Netherlands in 2017.
Welcoming the news Minister Halligan said: "Today's announcement is yet another example of the growing number of Irish companies benefitting from Ireland's membership of ESA. Through our continued investment in the European Space Agency and with the support of my Department and Enterprise Ireland, Ireland's space sector will continue to go from strength to strength."
Speaking about InnaLabs' success, CEO of InnaLabs John O'Leary said: "We are delighted to announce this contract with ESA which validates our products internationally and gives us the opportunity to offer our CVG technology to the space market segment. We are also pleased to learn that a national Space Strategy for Enterprise is under development. We believe this will be an invaluable resource for Ireland to continue to succeed in the space sector, but also to facilitate Irish companies to expand into related commercial markets following ESA validation."
Welcoming the announcement, Gearóid Mooney, Divisional Manager of Enterprise Ireland's Research and Innovation Business Unit, said "the InnaLabs contract is further evidence of the growing capabilities of Irish firms to develop high performance and high reliability technologies for the global space market, with the support of the European Space Agency".
The steering group for the Space Strategy for Enterprise will set out details about the process for producing the strategy when it meets in the coming weeks. This will include details about the public consultation that it will organise and which will be accessible on the websites of the Department of Business, Enterprise and Innovation and Enterprise Ireland.
OTHER ARTICLES IN THIS SECTION