ARTICLE
Burner design opens up new opportunities
11 September 2019
Joining Lanemark Combustion Engineering's FD range, the FDB packaged or semi-packaged burner offers additional advantages in terms of location and, importantly, flame profile.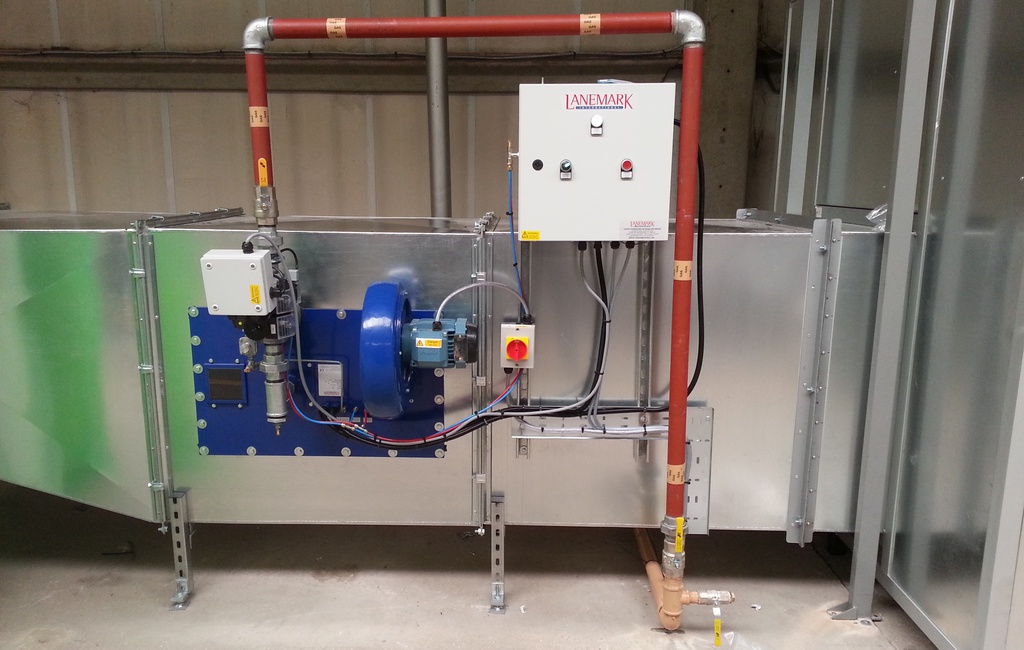 Selection of the most effective temperature and process burner control system is a factor that impacts on the overall efficiency of a gas-fired industrial recirculating oven or dryer, particularly in terms of energy usage, according to Lanemark Combustion Engineering.
The company has designed, manufactured and installed a wide range of process gas burner systems worldwide – many in facilities that are at the heart of the surface treatment and finishing sector.
Significantly, it is a view that underpins the company's FDGA burner design which sees both the gas and combustion airflows modulate in response to the process oven temperature requirements.
"As with the FDGA design, FDB burners offer flexible, high turndown control of both gas and air with benefits seen particularly across a range of oven, dryer and spray-booth applications," says Adrian Langford, general manager at Lanemark Combustion Engineering. "This is clearly relevant in the surface treatment sector in areas such as paint spray-booth air heating – for both spray and bake cycles – and with paint drying and curing ovens."
Langford points out that a key characteristic of the FDB design is its ability to be mounted either internally within an enclosure or directly onto the wall of a dryer, oven or process air heating duct. It can therefore operate in line with, or at 90° to, the process airflow.
He explains: "In this context, the flame shape is of particular significance as it can deliver either a square or rectangular profile – rather than a conventional circular configuration. Flame length is both short and consistent irrespective of the FDB rating specified, optimising its suitability for mounting inside an enclosure." He adds that the system is also designed to reduce emissions to minimal levels.
The Lanemark FDB design also makes full use of the latest electronic variable speed drives whereby temperature control signals are received from the heated process air which then modulates the output of the combustion air fan. When the required operating temperature has been reached, the temperature control signal falls, the combustion air fan speed slows down and the pressure generated by the fan reduces. This change in combustion fan air pressure is transmitted to the latest generation of gas/air modulating control valves, such as the VAV series produced by Kromschroder, so that the gas flow is reduced proportionately.
Lanemark says there are clear-cut gains when compared to gas and air modulation via a linked gas butterfly valve and combustion air damper where the combustion air fan runs continuously at maximum speed with the linkage arrangement between the gas and air supplies being both inflexible and, potentially, prone to sticking.
As with all Lanemark TX (tank heating) and FD (forced draught heating) burner systems, the FDB is available in a choice of sizes and configurations to match application needs, with heat input options, for example, ranging from 9 to 1400kW. In all cases, installations can include a compact, pre-piped modulating gas valve train and control panel which includes a burner controller, ignition transformer, differential air pressure switch and two three-way air valves as standard. The company points out that additional control components, including temperature controllers, can also be included where requested and that the burners can be specified for use with either natural or propane gas.
"The operational and environmental benefits of our FD range have been demonstrated in a long and growing list of installations in many different industrial sectors, and we are delighted that the surface treatment and finishing sector has long been one of our key UK and international market places," adds Adrian Langford. "The addition of the FDB unit not only extends application and performance options but also acts as a further demonstration of our ongoing commitment to research, innovation and product development."
OTHER ARTICLES IN THIS SECTION