ARTICLE
The time is right for food and drink SMEs to invest in automation
26 July 2017
Paul Wilkinson, commercial & information systems manager at Pacepacker Services, examines the current challenges of the food and drink industry and details how he believes robots can assist SMEs to boost productivity and compete with larger industry players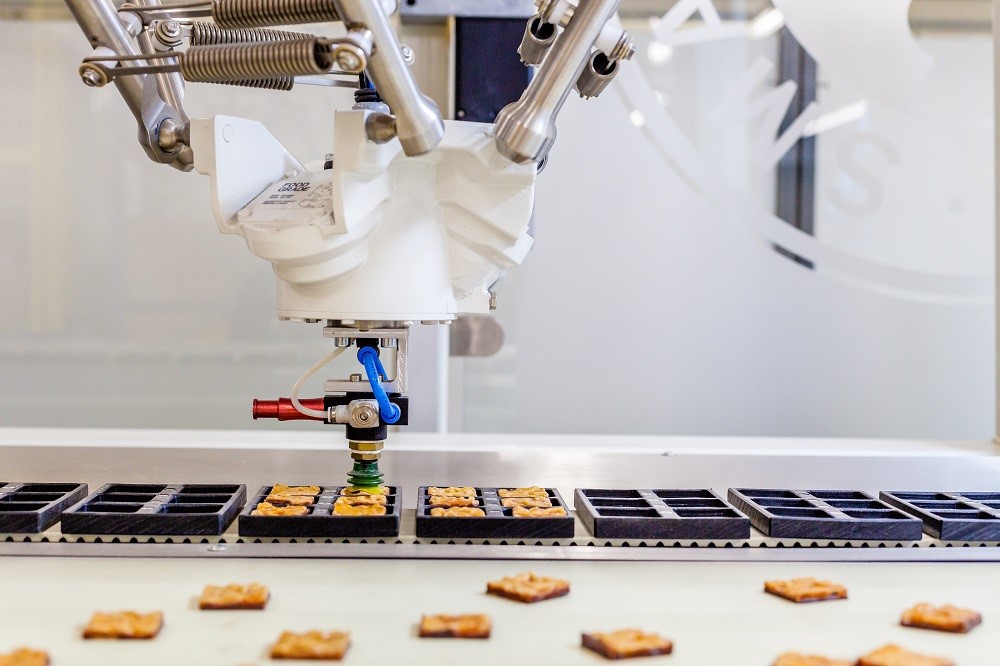 The adoption of robots in industry has been chequered in the UK. A Centre of Economics and Business Research report* states that the UK had a much smaller rate of adoption than in other developed, industrial countries, at 33 robots per 10,000 employees. In fact, the same report found that the number of new industrial robots installed in 2015 actually dropped 21% from 2014. However, there are signs that UK manufacturers' attitudes to robots are changing rapidly.
Previously robots were seen as the preserve of larger industries, but there is a growing awareness that robots can offer similar productivity benefits to the SMEs that make up the bulk of the UK's economy. Although prices have remained stable, advances in both software and hardware make today's robots faster and more powerful, ensuring that they are capable of many more tasks.
The food and drink industry in particular can benefit from the adoption of robots. Food and beverage production is becoming more critical to the economy, especially for the export sector. The Food and Drink Federation recently released figures that said the first quarter of 2017 was the largest on record, growing 8.3% year-on-year to £4.9bn, and this follows bumper 2016 figures. The organisation credits the weak pound and better promotion abroad for the increase. In periods of growth like this, companies are more likely to look at capital investment and consider more innovative ways to increase productivity. Robots are likely to be one of the investments that can gain the best yield for the manufacturer.
With Brexit on the horizon, there are fears that tariffs may affect this growth, while making it harder to recruit workers for the industry. Oxford University's Migration Observatory estimates 36% of process workers in the food and drink industry are foreign born, so a recruitment shortage is a real possibility in the near future. Robots can fill this recruitment gap while providing additional benefits to manufacturers. Robots may have an initial capital investment, but provide savings over the longer term by increasing productivity. They also cut out a lot of the paperwork and red tape that can hurt businesses – robots don't need holidays, pensions or salaries. Technological advances also mean today's robots can work safely in the same areas as existing staff without the need for additional outlay on protective measures.
In the food and beverage industry, robots are mainly found at the back end of the line - bagging, packaging and palletising products. These robots are fast and reliable, making them capable of freeing up manpower to assist elsewhere in the factory. The key to these improvements has been advances in software and hardware, which make robots more flexible and easier to use. For example, there are a wide variety of robotic arm extensions that enable robots to deal with almost any type of container or packaging. Programming can also be done offline, allowing files to be set up beforehand, and quickly downloaded when the process changes and ensuring changeover times are kept to a minimum.
One area that has concerned manufacturers in the past, is the disruption caused when initially implementing robots in the production line. This can be minimised by partnering with an integrator with the domain experience, combined with high level engineering, automation, IT and operational skills. There is often tremendous value to be gained from working with companies that have refined their skills by taking on complex and bespoke projects. Having a solid track record of integrating disparate automation platforms is equally valuable, as it enables best practice to be shared between different applications.
An integrator with intimate knowledge of the food and drinks industry, such as Pacepacker, can offer advice from the very start of the process on the correct set up, robots, software and even provide tailored training to ensure implementation is painless. For example, Pacepacker and Festo have partnered to deliver training days to customers that can provide answers to any questions and advice on the latest technological advancements.
Strong supplier partnerships are equally critical to project success. As testimony, Pacepacker recently sourced equipment from nine different original equipment manufacturers (OEMs) to build its most complex case loading and palletising line to-date. Everything came from British based suppliers, including FANUC, Endoline, Capture Automation, LAC Conveyors and Festo. In total, the line comprised more than 15 individual elements, including a special mechanical end effector designed by Pacepacker that grabs hold of bottles in a single layer. The operation, which previously relied entirely on manual labour, has more than doubled processing and packing output for this client and is also reducing waste and eliminating workforce repetitive strain injuries.
Although the UK may have fallen behind the curve in the adoption of robots in industry, this is changing as manufacturers look to increase productivity. SMEs in particular have been reluctant to make the initial outlay on robots, and this is especially true for the food and drink industry. Europe-wide, SMEs with fewer than 249 employees account for more than 50% of the food and drink industry turnover. With Brexit looming, and fears of an upcoming shortage of manpower for the industry, there is no better time to look at automation. Robots are now more powerful and flexible, and assistance is readily at hand to ensure the transition goes without a hitch.
OTHER ARTICLES IN THIS SECTION